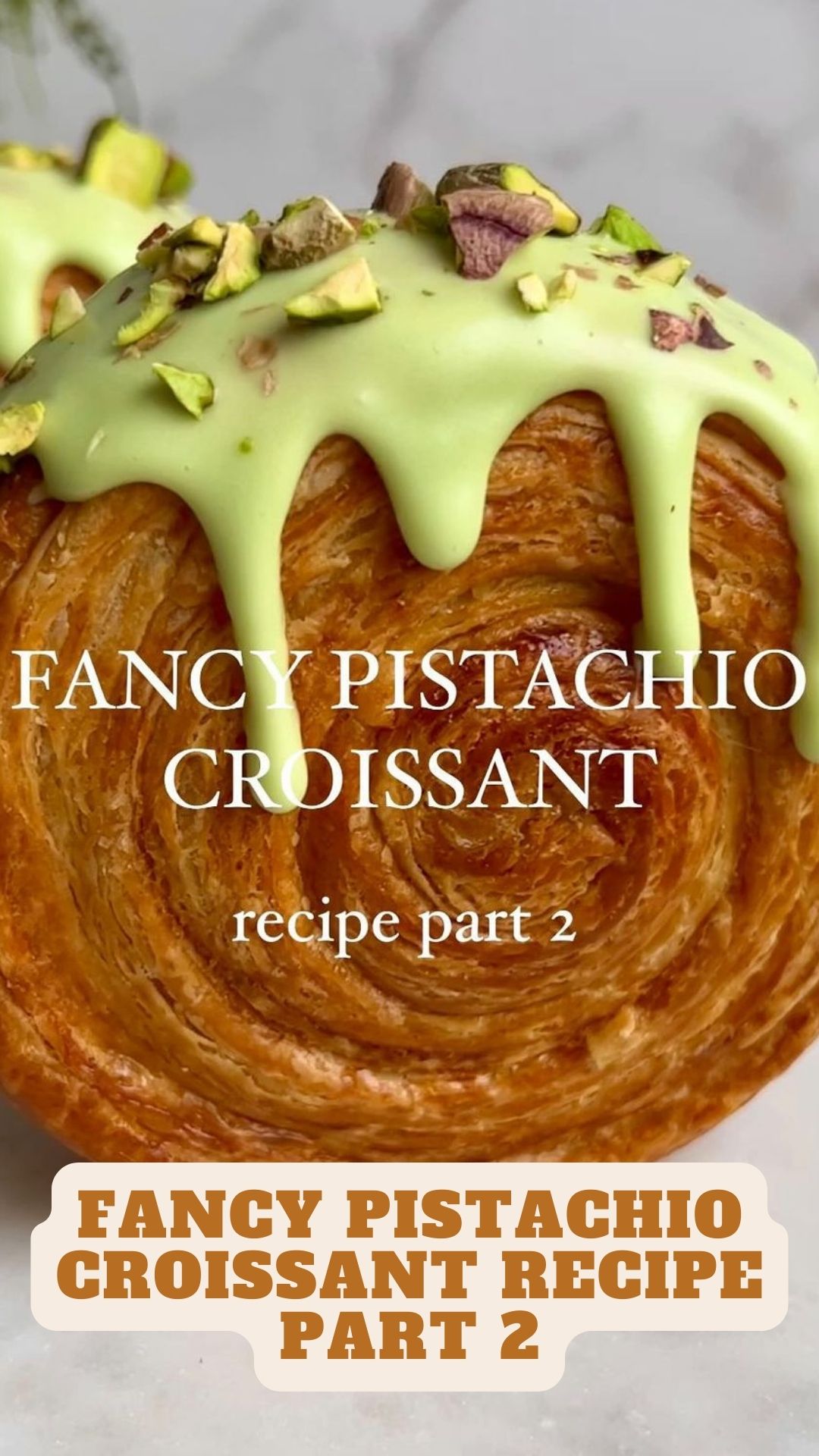 Part 2: Lafayette's Famous Pistachio Croissants!
Have you heard about the viral pistachio croissants from Lafayette? They're absolutely heavenly! If you're wondering what pistachio cream tastes like, imagine the delightful flavor of kulfi ice cream—it's a personal favorite of mine 🤤.
Fancy Pistachio Croissant Recipe part 2
Ingredients
6 croissants from part 1 (see Notes)
Pistachio Paste (makes extra)
1/2

cup

unsalted

shelled pistachios
Pistachio Crème Patisserie
1

egg

1/4

cup

sugar

2

tbsp

cornstarch

1

cup

milk

1/4

tsp

salt

1/2

tsp

vanilla

1

tbsp

unsalted butter

2

tbsp

pistachio paste
Icing
1

cup

powdered sugar

3-4

tbsp

milk + more if needed

A few drops of green food color
Instructions
Prep the croissants as shown in part 1.

Boil water and blanch the pistachios for 2 minutes. Pat them dry with a paper towel and remove the brown skin. It might be a bit tedious, but it's worth it. Pulse in a food processor until you get a paste.

Heat milk and vanilla until it boils at low heat. Meanwhile, mix egg, sugar, salt, and cornstarch until combined. Slowly pour in 1/3 of the hot milk while stirring constantly. Add the egg mix to the milk mix and stir on low heat until you get a custard-like consistency.

Turn off the heat. Mix in the butter and pistachio paste. Transfer to a blender and blend until smooth. Strain, cover, and refrigerate.

For the icing, mix sugar, milk, and food color. It should be runny enough to drip but not too runny.

After 30 minutes, transfer creme patisserie to a piping bag with a Bismark tip. Poke a hole along the edge of a croissant and gently squeeze in the cream. I made up to 3 holes per croissant and tried to add as much cream as I could. You should have enough for all 6 croissants.

Carefully place your croissants on a serving platter, dribble on the icing to get the desired drip effect, and decorate with chopped pistachios. Let them sit at room temperature for about 30 minutes until the icing sets.

Enjoy! These delightful treats won't stay fresh for long, so savor every bite and eat them quickly.