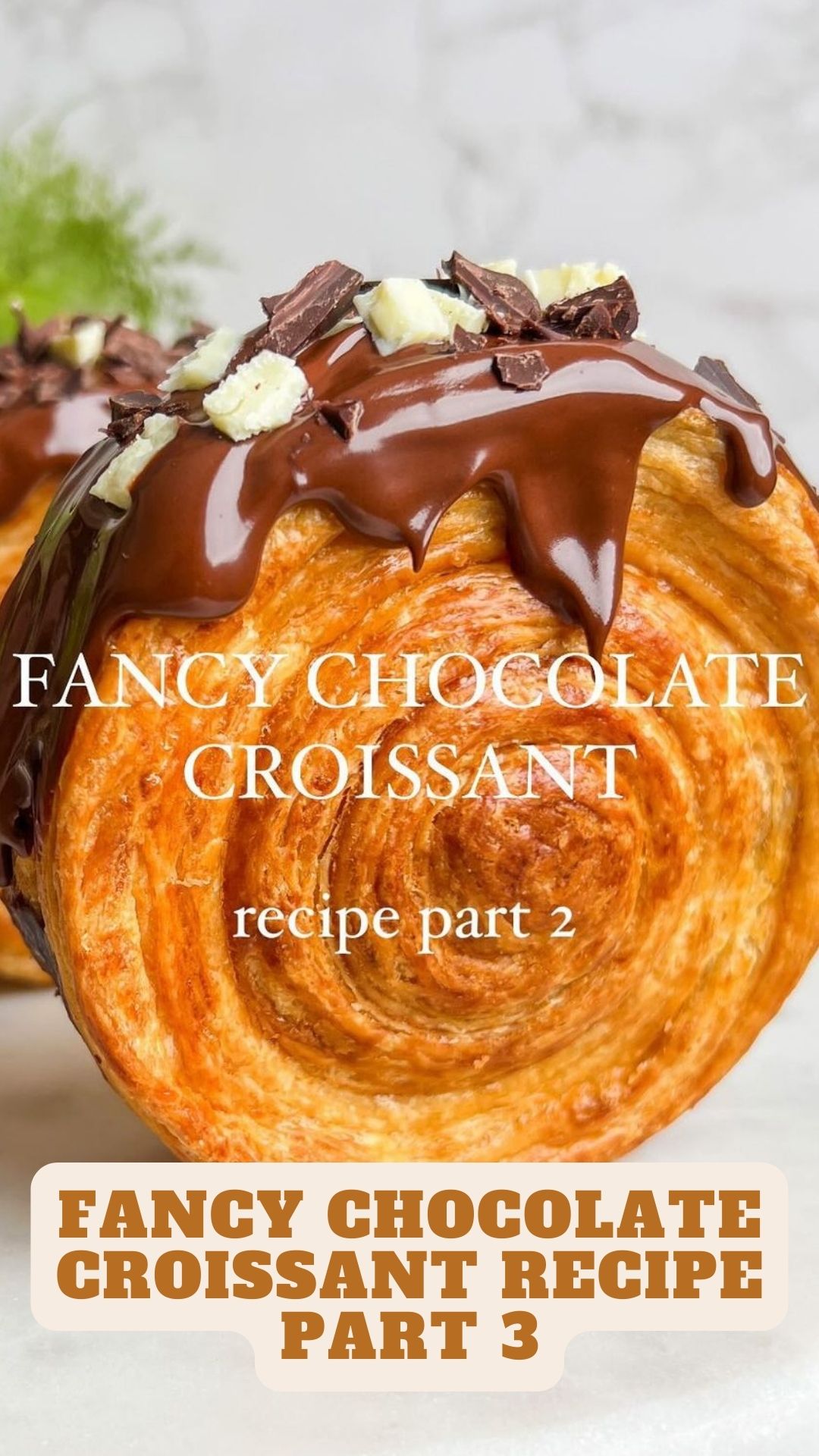 Part 3: Viral Chocolate Croissants
Get ready for the ultimate chocolate experience with these amazing croissants! A big shout-out to those of you who've tackled this recipe—it's no walk in the park!
Fancy Chocolate Croissant Recipe part 3
Ingredients
6 croissants from part 1 (see Notes)
Chocolate crème patisserie (you can also fill the croissants with ganache but they will be heavier)
1

egg

1

egg yolk

1/4

cup

sugar

1

tbsp

cornstarch

1

tbsp

cocoa powder

1

cup

milk

1/4

tsp

salt

1/2

tsp

vanilla extract

3

oz

semi-sweet or dark chocolate

about 85g

1

tbsp

butter

2

tbsp

cream cheese
For the Glaze:
75

g

dark chocolate

2

tbsp

vegetable oil
Instructions
Prep the croissants as shown in part 1.

Heat the milk and vanilla until it simmers. While that's happening, mix egg, egg yolk, sugar, salt, cocoa powder, and cornstarch until it's all combined.

Slowly add one-third of the hot milk to the egg mix while stirring constantly. Then, add the egg mix to the milk and stir on low heat until you get a custard-like consistency.

Turn off the heat, mix in the chocolate chips and butter, and whisk until melted. Add the cream cheese and mix.

Transfer the mixture to a blender and blend until smooth. Strain, cover, and refrigerate.

For the glaze, melt the chocolate in 20-second increments in the microwave. Mix in the oil until it's runny enough to drip but not too runny.

After 30 minutes, transfer the pastry cream to a piping bag with a Bismark tip. Poke a hole along the edge of a croissant and gently squeeze in the cream. Aim for up to 3 holes per croissant, adding as much cream as possible. There should be enough for all 6 croissants.

Carefully place your croissants on a serving platter, and drizzle on the glaze for that perfect drip effect. Sprinkle with chopped chocolate for decoration. Let them sit at room temperature for about 30 minutes until the glaze sets.

Enjoy the deliciousness!