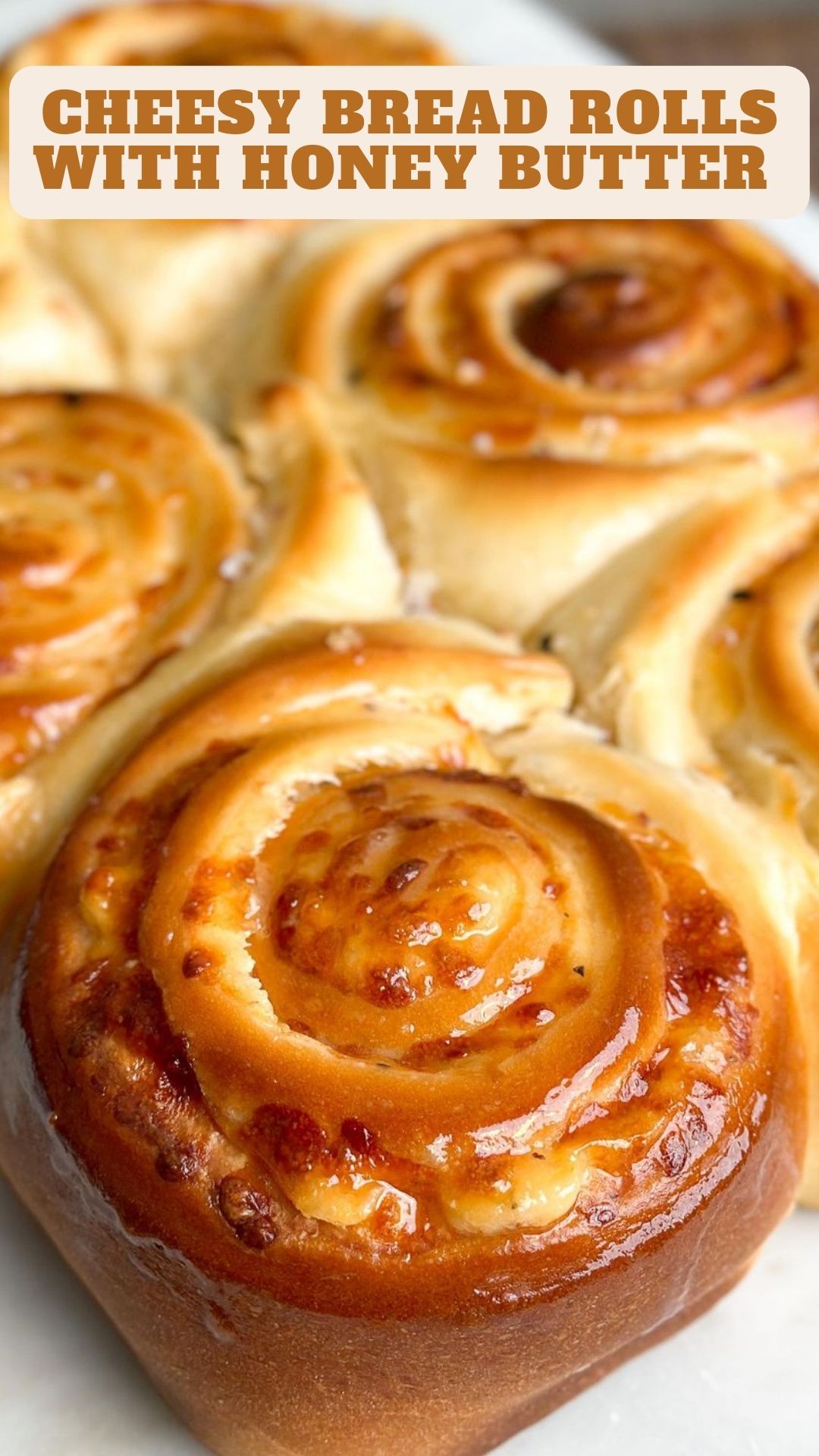 Meet the savory twin of cinnamon rolls – these scrumptious cheesy bread rolls are a delight for your taste buds! Imagine the softest, squishiest bread filled with a delectable cheese filling, and to top it off, a drizzle of honey butter. It's practically heaven in every bite because, let's be real, who can resist the magical combination of bread and cheese?
Believe me, these cheesy bread rolls never fail to blow my mind, and I can't recommend them enough! Picture this: easy small-batch cheesy bread rolls with a touch of cinnamon roll flair, all lovingly brushed with honey butter.
Cheesy Bread Rolls With Honey Butter (Cinnamon Roll Style)
Ingredients
*Bread:*
2/3

cup

warm milk

160g

3

tbsp

sugar

40g

2

teaspoons

yeast

2 1/2

cups

all-purpose flour

325g

1

teaspoon

salt

1/4

cup

softened unsalted butter

60g

1

egg
*Cheese sauce:*
2

tbsp

unsalted butter

28g

2

tbsp

all-purpose flour

16g

1

cup

milk

240g

1

tsp

minced or chopped garlic

1/2

tsp

each salt

pepper, and chili flakes (adjust to taste)

1/3

cup

shredded mozzarella cheese + extra for sprinkling

optional

1/3

cup

shredded cheddar cheese

1/3

cup

shredded gouda cheese

2

tbsp

cream cheese

30g
*Honey butter:*
2

tbsp

unsalted butter

28g

2

tbsp

honey

40g
Instructions
*Bread:*
Combine all bread ingredients in your stand mixer bowl. Knead with the dough hook for 7-10 minutes until the dough becomes smooth, soft, and stretchy.

Transfer the dough to an oiled bowl, cover with cling wrap, and let it rise in a warm place for 60-90 minutes until it doubles in size.
*Cheese sauce:*
Melt butter in a nonstick saucepan over medium heat. Sauté garlic until fragrant.

Add flour, stir for 1 minute, then add milk and seasonings. Cook until smooth and thickened.

Turn heat to low, add shredded cheeses and cream cheese. Stir until fully mixed. Adjust seasoning and let it cool.
*Assembly:*
Preheat your oven to 375°F during the last 20 minutes of the second rise.

Roll the risen dough into a 12×14″ rectangle. Spread the cheese sauce and optionally sprinkle more mozzarella.

Cut into 2″ thick strips, roll each strip tightly, and place in a prepared pan. Let them rise for another 30-45 minutes.
*Baking & serving:*
Bake for 20-22 minutes until golden.

Melt butter for honey butter, mix with honey, and brush onto hot rolls.

Serve and savor the deliciousness!
Notes
For irresistibly soft rolls, ensure the dough doubles in size before assembly. When gently poked, it should spring back partially. Enjoy your cheesy bread roll adventure!