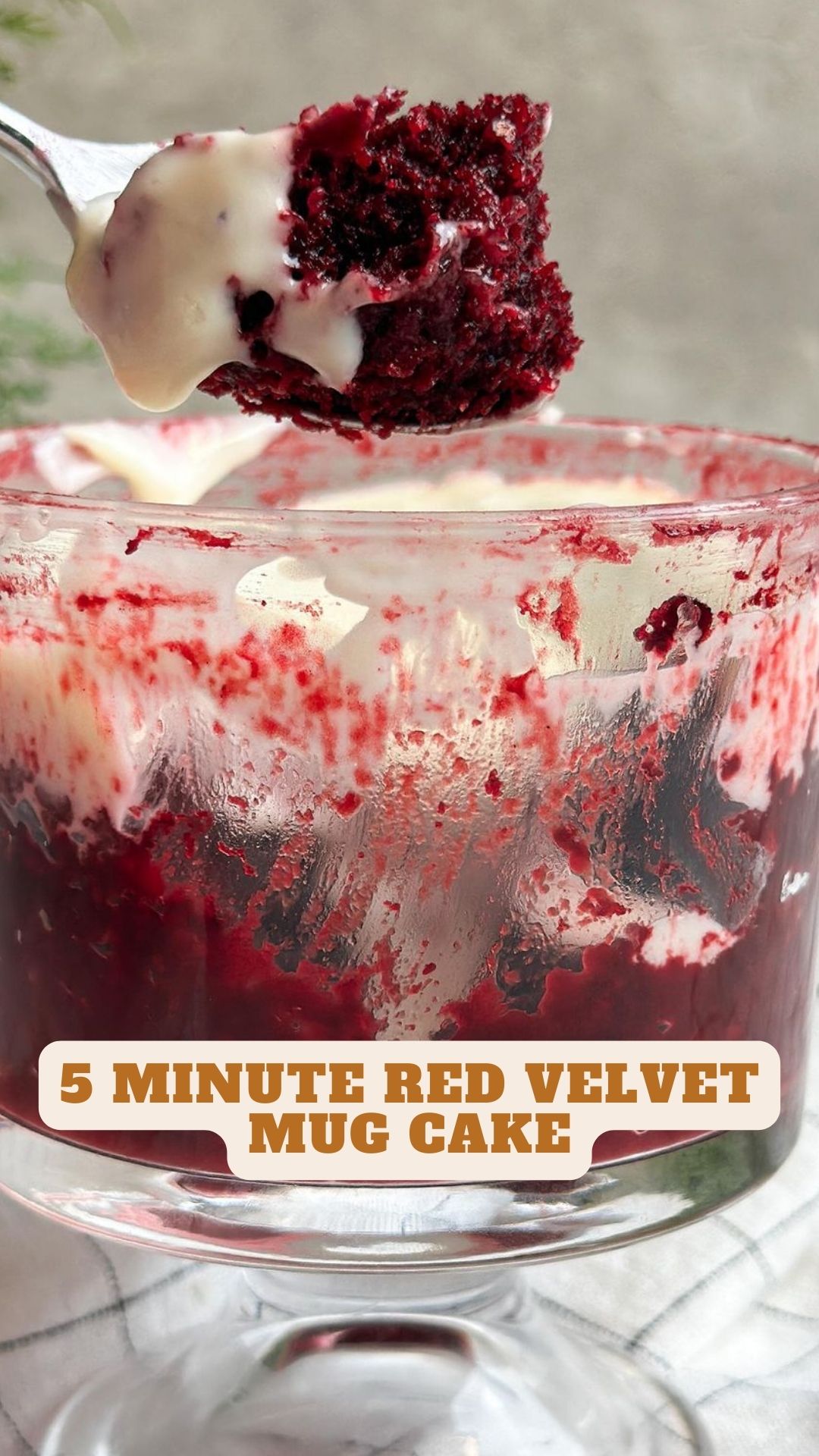 Introducing the Five Minute Red Velvet Mug Cake – because dreams really do come true! This cake is not only a piece of cake to make but also boasts a wonderfully moist, velvety texture. And to top it off, there's a super quick cream cheese frosting that takes it to the next level. Seriously, your Netflix and chill date night just found its missing piece.
5 Minute Red Velvet Mug Cake
Ingredients
**Cake:**
4

tbsp

milk

60g

½

tbsp

white vinegar

1 ½

tbsp

vegetable oil

20g

½

tsp

vanilla

A few drops of gel red food coloring

4

tbsp

all-purpose flour

32g

½

tbsp

cocoa powder

4g

2

tbsp

sugar

27g

¼

tsp

baking powder

⅛

tsp

salt
**Cream cheese frosting:**
1

tbsp

cream cheese

room temperature (15g)

1

tbsp

heavy cream

1-2

tablespoons

powdered sugar

to taste
Instructions
Take a microwave-safe mug (around 10-12oz) and add in the milk, vinegar, oil, and vanilla. Give it a good mix with a whisk or fork.

Add the red food color and mix until you have a bold red color (it'll dilute a bit when we add cocoa powder).

Sift in the flour, cocoa powder, baking powder, and salt. Add the sugar. Whisk until a smooth batter forms (no need to overmix).

Microwave on the default setting for 60-90 seconds. Keep an eye on it around the 60-second mark; if there's still wet batter, zap it for another 10-20 seconds.

Let the cake cool for 15 minutes (speed up the process by placing it in the fridge after 5 minutes).

While it cools, use a fork to whip up the cream cheese frosting until it's creamy.

Spread a generous amount of the cream cheese frosting onto the cake.

Serve, and let the indulgence begin!
Notes
Microwaving time can vary, so start checking around 60 seconds. If there's wet batter, give it a bit more time. If it springs back when lightly poked, it's done.
Avoid long gaps between microwaving to prevent the cake from deflating and becoming dense.