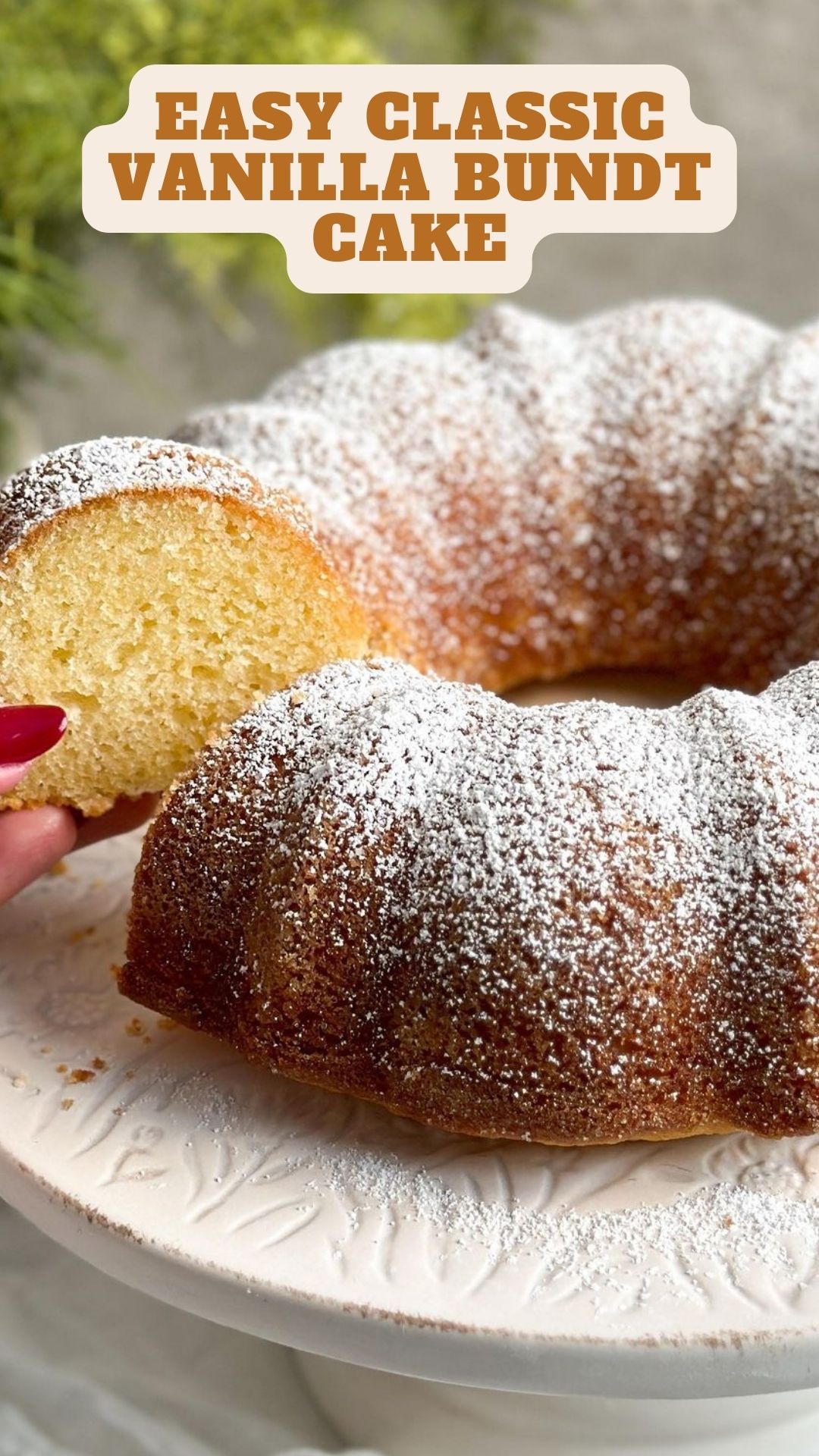 Hey there, baking buddies! Let's dive into making this super easy Classic Vanilla Bundt cake together. No fancy skills needed, just simple ingredients and steps. It's a breeze – only 10 minutes of effort, and in just 40 minutes, you'll have a mouthwatering, soft, and moist cake ready to enjoy! 🍰
This one's perfect for all you baking beginners or anyone craving a straightforward recipe. I'm crossing my fingers you'll adore it as much as I do. Oh, and here's a little secret: the key to perfection is using top-notch vanilla bean paste!
Easy Classic Vanilla Bundt Cake
Ingredients
1 ½

cups

all-purpose flour

195g

¼

cup

cornstarch

35g

2

tsp

baking powder

¼

tsp

baking soda

½

tsp

salt

½

cup

oil

100g

¼

cup

melted butter

57g

1

cup

granulated sugar

220g

2

eggs + 1 egg white

½

cup

buttermilk

120g; or substitute with ½ cup milk + 1 tablespoon lemon juice or vinegar

1.5 to 2

teaspoons

vanilla bean paste
Instructions
Preheat your oven to 350°F (conventional).

In a bowl, sift together flour, cornstarch, baking powder, baking soda, and salt. Give it a good mix and set it aside.

In another bowl, whisk together sugar, oil, and melted butter for 1-2 minutes until it changes color. Add the eggs, egg white, and vanilla, whisking for another 1-2 minutes.

Alternate adding a third of the buttermilk and dry ingredients to the wet mix, gently folding until everything is combined.

Prep your bundt pan by generously brushing it with oil and dusting with granulated sugar. Pour in the batter.

Bake for around 30 minutes (keep an eye on it!) until a toothpick comes out with moist crumbs attached.

Let the cake chill in the pan for 10-15 minutes, then carefully flip it out.

Sprinkle some powdered sugar on top, and you're ready to savor the deliciousness!
Notes
Quick note: Keep an eye on the baking time, as it may vary depending on your Bundt pan. And always go for top-quality vanilla, like vanilla bean paste, for that unbeatable flavor. Happy baking! 🎉