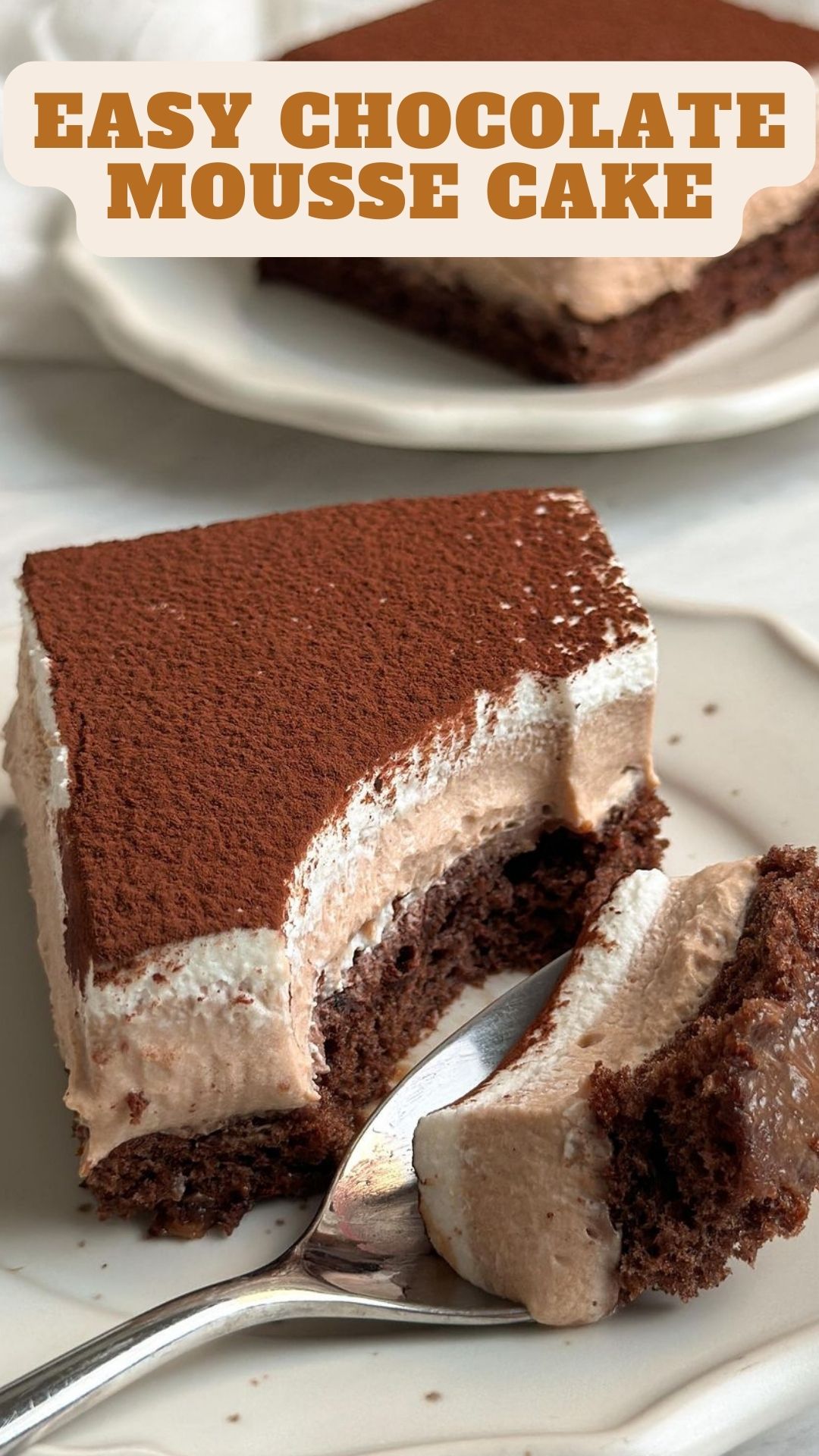 Indulge in the ultimate summer treat: a super-simple chocolate mousse cake that's a delightful blend of chocolate cake and ice cream flavors.
I'm thrilled to share one of my childhood favorites with you! Dive into the easiest chocolate mousse cake ever, featuring a light and airy mousse layer that's just perfect for those warmer months.
Easy Chocolate Mousse Cake
Ingredients
**For the Chocolate Genoise Sponge Cake:**
2

large eggs

55

g

sugar

about ¼ cup

40

g

all-purpose flour

⅓ cup

10

g

cocoa powder

1.5 tbsp

⅛

tsp

salt

¼

tsp

baking powder
**For the Chocolate Ganache:**
300

g

milk chocolate

preferably Cadbury Dairy Milk, chopped

360

g

heavy cream

1.5 cups
**For the Chocolate Mousse:**
Chocolate ganache from above

240

g

heavy cream

1 cup, chilled
**For Whipped Cream (optional):**
¾

cup

cream

1

tbsp

granulated sugar

2-3

tablespoons

cocoa powder

for serving
Instructions
Preheat the oven to 350°F and line a 9×9″ pan with parchment paper.

For the cake, whisk eggs and sugar until tripled in volume. Sift in dry ingredients, fold gently, and transfer to the pan. Bake for ~13-14 minutes. Let the cake cool.

For the ganache, heat cream until just boiling, then pour over chopped chocolate. Cover and wait 5 minutes, then stir until smooth. Cool in the fridge for 20-30 minutes.

For the mousse, whip the chilled cream until stiff peaks form. Gently fold into the cooled ganache in 2-3 additions.

Assembly: Line a 9×9 pan with parchment paper. Place the cooled cake inside and pour over the chocolate mousse. Freeze for 20 minutes.

Decoration: Whip cream and sugar until medium peaks form. When the mousse is somewhat set, top with whipped cream and spread evenly.

Serving: Let the cake cool in the freezer for 1 hour. Dust with cocoa powder and slice into individual servings. Store in the fridge.
Notes
Enjoy this cake very cold; keep it refrigerated or put it in the freezer for 15 minutes before serving.
If the cake feels dry, brush on some simple syrup before adding the mousse.
For an extra touch, remove ~¾ cup of ganache and add it as another layer before the mousse.
Get creative with the shape; use a 9″ round pan or make individual servings in muffin cups.