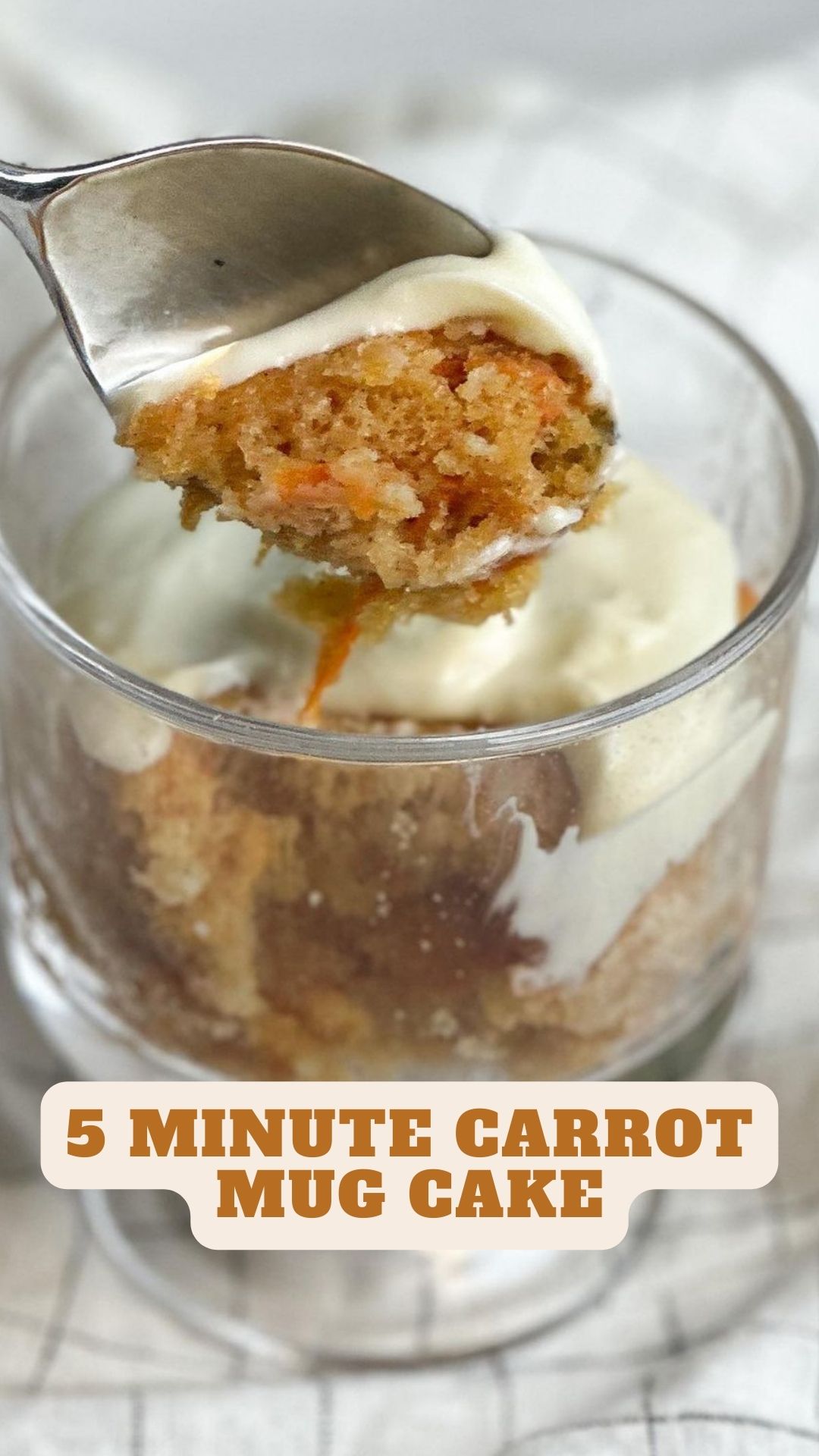 Who wouldn't want a delicious and moist Carrot Mug Cake ready in just 5 minutes? Count me in! I can't believe how tasty this cake is, and that cream cheese frosting is absolutely irresistible.
5 Minute Carrot Mug Cake
Ingredients
**Carrot Mug Cake:**
3

tablespoons

milk

1.5

tablespoons

oil

½

teaspoon

vanilla

4

tablespoons

all-purpose flour

2

tablespoons

sugar

⅓

teaspoon

baking powder

¼

teaspoon

cinnamon

⅛

teaspoon

salt

¼

cup

freshly grated carrots
**Cream Cheese Frosting:**
1

tablespoon

cream cheese

at room temperature

1

tablespoon

heavy cream

1

tablespoon

powdered sugar
Instructions
In a microwave-safe mug (about 10-12oz), combine milk, oil, and vanilla. Whisk them together.

Sift in the all-purpose flour, sugar, baking powder, cinnamon, and salt. Mix with a spoon or fork until everything is well combined.

Add the freshly grated carrots and mix until they are evenly distributed.

Microwave the mixture for about 60-90 seconds until the cake is fully cooked. Keep an eye on it, as cooking times can vary.

Let the cake cool for around 15 minutes.

While the cake is cooling, prepare the cream cheese frosting by mixing cream cheese, heavy cream, and powdered sugar until creamy.

Once the cake is cooled, cover it with the luscious cream cheese frosting.

Serve and enjoy your quick and delightful Carrot Mug Cake!
Notes
Quick tip: Check the cake for doneness around the 60-second mark and adjust accordingly. Don't leave long gaps between microwaving to avoid deflating the cake and making it dense. Happy baking!