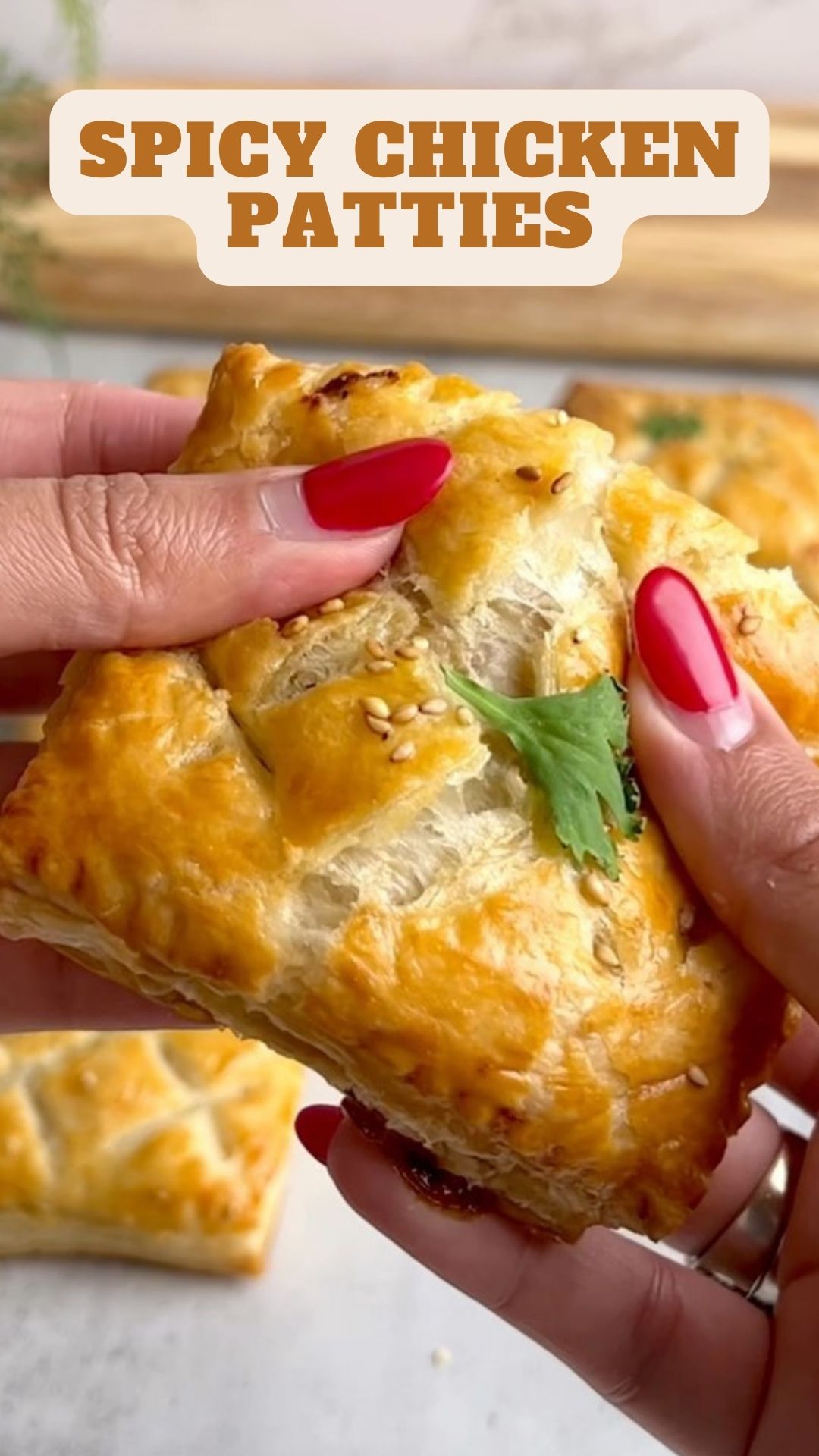 Let's bring back these delicious Spicy Chicken Patties because they're just perfect, especially during Ramadan! They're so convenient – make a big batch, freeze them, and bake up a fresh batch whenever you crave them.
Spicy Chicken Patties
Ingredients
1

tablespoon

of olive oil

1/2

onion

finely chopped

1

tablespoon

of garlic paste

1.5

cups

of boiled

shredded chicken (about 2 tenders)

1

tablespoon

of soy sauce

1

tablespoon

of vinegar

3/4

teaspoon

of salt

3/4

teaspoon

of black pepper

3/4

teaspoon

of chili flakes

1

tablespoon

of butter

1

tablespoon

of flour

2

tablespoons

of cream

1/2

cup

of shredded cheese

1

egg + 1 tablespoon of milk for egg wash

Optional: Sesame seeds

12

x12 inch refrigerated puff pastry sheet
Instructions
Heat up a nonstick pan with olive oil over medium heat. Saute the finely chopped onion until it turns light golden. Then, add the garlic paste and saute for another minute.

Add the shredded chicken and mix it up. Then, throw in the spices. You can adjust the quantity, but keep the filling strong in flavor to balance the puff pastry. Add the vinegar and soy sauce and mix well.

Turn off the heat. Add the butter, flour, and cream, and mix until the chicken forms a sticky mix. Add the shredded cheese and mix, leaving some chunks of cheese for that extra gooey goodness.

Let the mixture cool for 15 minutes. Preheat the oven to 400°F.

Divide the puff pastry into 12 equal pieces (3×4" each). Spoon the chicken mix generously over 6 pieces. Brush the edges with egg wash and cover with the remaining 6 pieces.

Gently seal each parcel with your hands and use a fork to press the edges. Transfer to a lined baking sheet and create a pattern if you like.

Brush with egg wash and sprinkle sesame seeds.

Bake for 18-20 minutes until the puff pastry becomes a deep golden color.

Serve and enjoy! These patties are best eaten fresh but can be stored in an airtight container and heated in a toaster or air fryer. Happy eating!