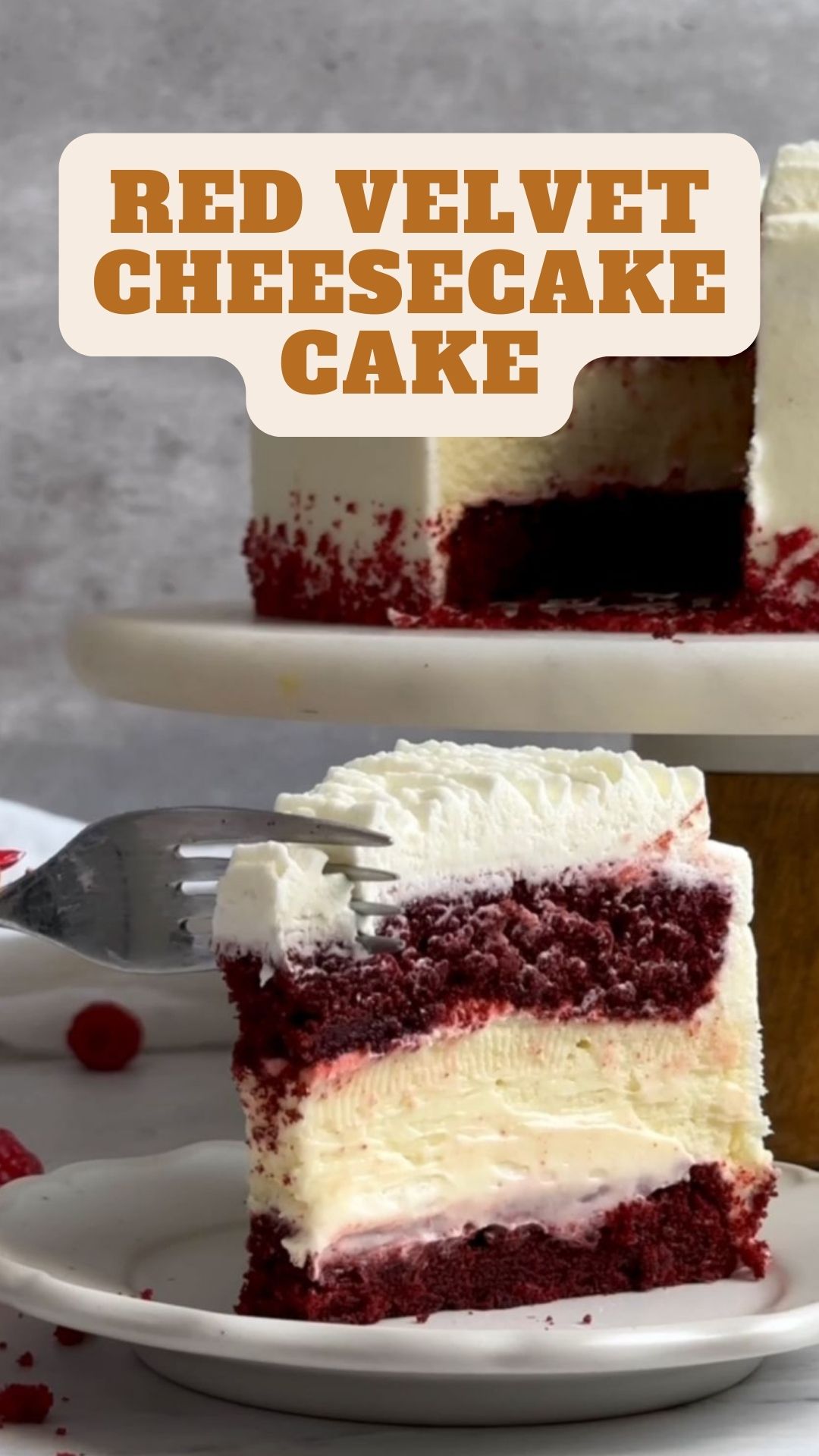 Get ready for the most amazing red velvet cake experience ever! This cake is unbelievably velvety, moist, and downright delicious. Imagine layers of perfection, with a creamy and rich cheesecake sandwiched in between—it's a taste of heaven.
And the best part? You get to decide how much effort you want to put into it. Whether you're in the mood to create the red velvet cake from scratch or prefer the convenience of a boxed mix, this cake will dazzle your taste buds either way.
Red Velvet Cheesecake Cake
Ingredients
**For the Red Velvet Layers:**
Butter

for cake pans

All-purpose flour

for cake pans

1

box red velvet cake mix

plus ingredients as listed on the box
**For the Cheesecake Layer:**
2 8-

oz.

packages cream cheese

softened

2/3

cup

granulated sugar

2

large eggs

1/3

cup

sour cream

1

tablespoon

all-purpose flour

1

teaspoon

pure vanilla extract

1/4

teaspoon

kosher salt
**For the Cream Cheese Frosting:**
2 8-

oz.

packages cream cheese

softened

1/2

cup

1 stick butter, softened

2 1/4

cups

powdered sugar

1

teaspoon

pure vanilla extract
Instructions
Preheat your oven to 350ºF and butter and flour two 9″ cake pans. Follow the instructions on the red velvet cake mix to prepare the batter.

Divide the batter between the prepared cake pans and bake until a toothpick inserted in the center comes out clean (approximately 30 to 32 minutes). Let the cakes cool in the pans before transferring them to a wire rack to cool completely. Use a serrated knife to level the cake tops.

For the cheesecake layer, line a 9″ springform pan with parchment and spray with cooking spray. In a large bowl, beat together cream cheese and sugar until fluffy. Add eggs one at a time, then mix in sour cream, flour, vanilla, and salt until combined.

Pour the cheesecake filling into the prepared springform pan and bake until slightly jiggly in the center (about 1 hour). Let it cool before transferring to the freezer to firm up.

For the cream cheese frosting, beat together cream cheese and butter until light and fluffy. Add powdered sugar and vanilla, and continue beating until well combined.

Now, assemble the cake. Place one red velvet cake on a cake platter, top it with the cheesecake layer, pressing down firmly, and finish with the second red velvet cake.

Use an offset spatula to frost the entire cake with the delicious cream cheese frosting.

For the finishing touch, garnish with red velvet cake crumbs before serving.