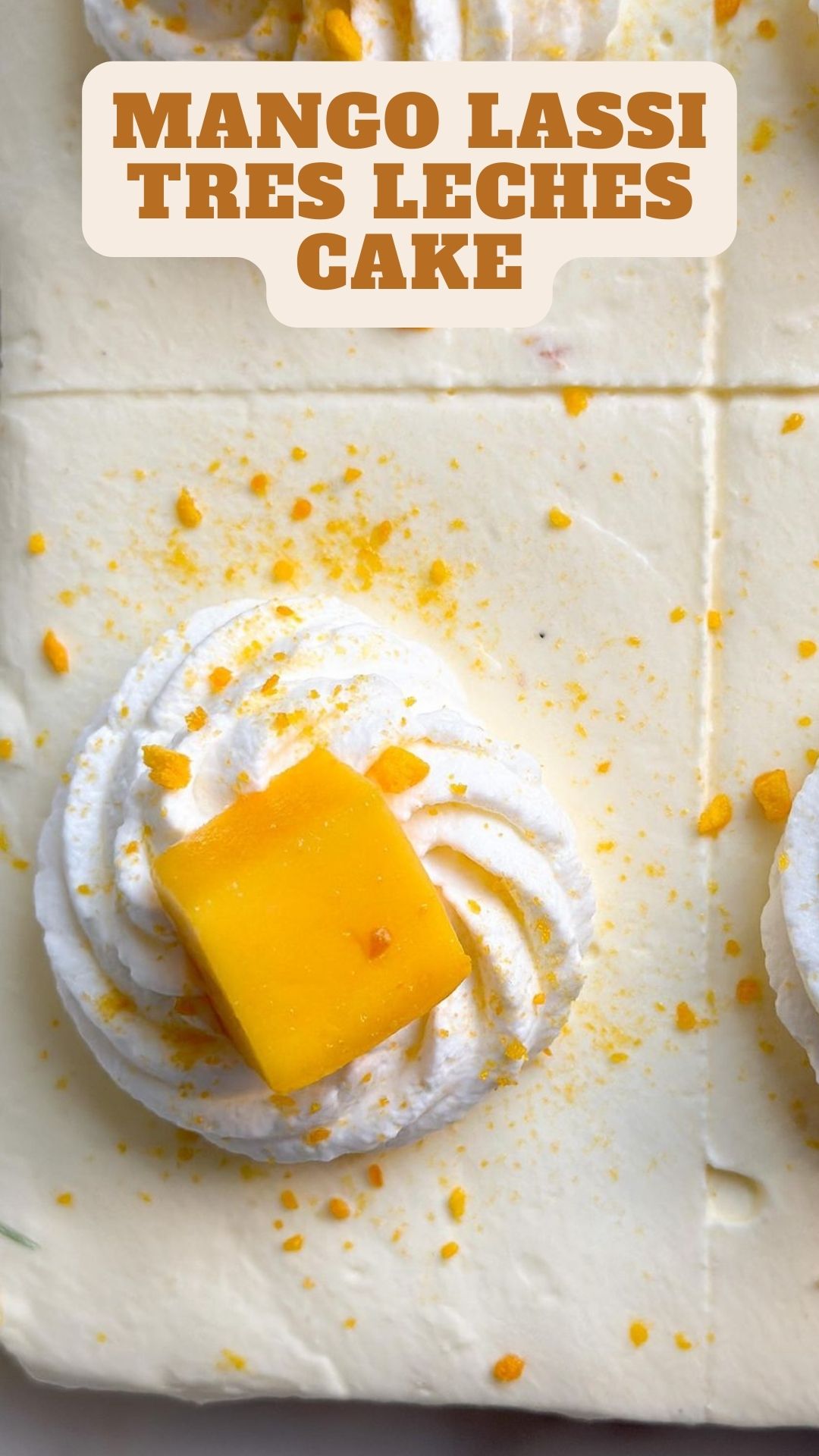 Can't stop thinking about this amazing Mango Lassi Tres Leches cake! Picture this: a fluffy sponge cake soaked in a Mango Lassi milk blend, topped with creamy Mango whipped cream that'll have you reaching for seconds.
Get ready for the ultimate summer treat – a delicious Tres Leches cake infused with the flavors of mango lassi.
Mango Lassi Tres Leches Cake
Ingredients
**Biscuit sponge cake:**
4

eggs

at room temperature, separated

¾

cup

sugar

divided into ½ cup and ¼ cup

½

tsp

vanilla

¼

tsp

salt

¼

cup

milk

¾

cup

all-purpose flour

2

tbsp

cornstarch

1.5

tsp

baking powder

¼

tsp

cream of tartar
**Mango lassi:**
1.5

cups

chopped mango

frozen or fresh

½

cup

plain yogurt

¾

cup

milk

2-4

tablespoons

sugar

as needed

Pinch

of cardamom powder
**Mango lassi three milk mixture:**
6

oz

sweetened condensed milk

slightly less than half of a 14 oz can, or ½ cup

6

oz

evaporated milk

¾ cup

½

cup

milk

Half of the mango lassi
**Mango whipped cream:**
1.5

cups

heavy whipping cream

chilled

Half of mango lassi

Additional whipped cream and fresh mango for decoration
Instructions
**Biscuit sponge cake:**
Preheat the oven to 350°F (conventional) and line a 9×13″ tray with parchment paper.

In egg yolks, add ½ cup sugar, salt, and vanilla. Whisk until light and fluffy.

Whisk in milk, then sift in flour, cornstarch, and baking powder. Whisk to combine (don't overmix).

In a separate bowl, whisk egg whites with cream of tartar until glossy peaks form.

Gently fold a third of the meringue into the egg yolk mixture, then add the remaining meringue.

Transfer batter to the pan and bake for about ~15 minutes. Let the cake cool.
**Mango lassi:**
Blend all ingredients until smooth, then strain through a fine sieve mesh. Taste and adjust if needed.
**Mango three milk mixture:**
Whisk all ingredients until combined. Adjust sweetness and ensure a liquid consistency.
**Soak the cake:**
Use a skewer to poke holes in the cake. Pour a fourth of the three milk mixture and wait until absorbed.

Add remaining liquid in 2-3 steps, allowing absorption between each. Refrigerate until fully absorbed.
**Mango lassi whipped cream:**
Whip heavy cream until thick. Gradually add remaining mango lassi, stopping at firm peaks.
**Assemble:**
Spread a thick layer of mango lassi whipped cream on the cake. Decorate with more whipped cream and freshly chopped mango.

Serve chilled and enjoy!