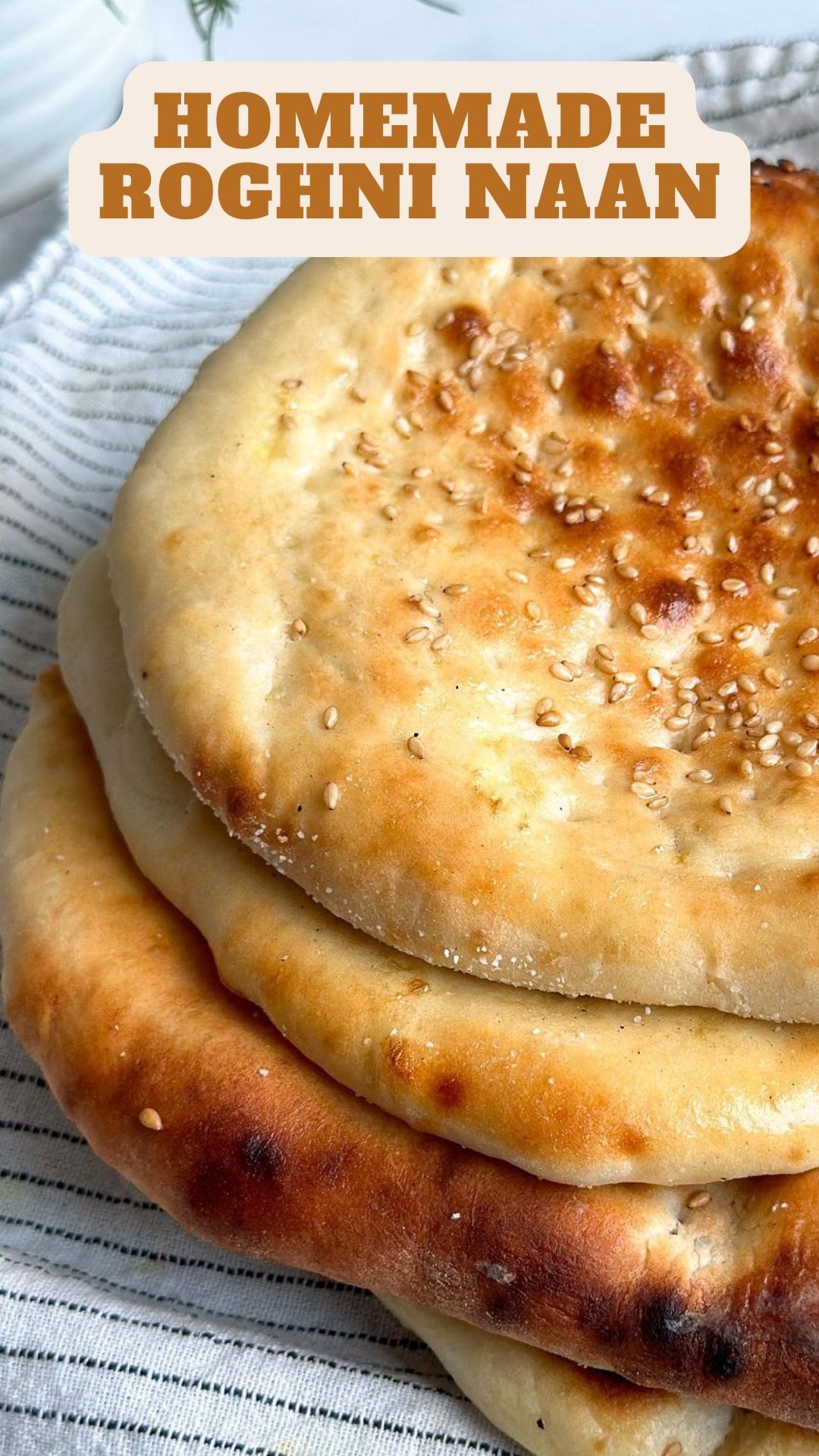 Let's create our own delicious Roghni Naan at home! 😍 If you haven't tried Roghni Naan before, get ready for a treat—it's way better than plain naan!
In Pakistan, people reserve this ultra-soft, fluffy, and beautifully golden naan with sesame seeds for special occasions. It's the perfect match for Nihari or Haleem, but my personal favorite is enjoying it on its own with a cup of chai.
Now, here's an easy recipe to make these soft and delightful Roghni Naans in your own kitchen, complete with that quintessential golden, quilted appearance!
Homemade Roghni Naan
Ingredients
**Dough:**
4

cups

all-purpose flour

520g

1

tbsp

granulated sugar

1

tsp

salt

adjust to taste

2

tsp

yeast

½

tsp

baking soda

3

tbsp

ghee or butter

45g

¾

cup

warm milk

180g

¾

cup

warm water

180g

2

tbsp

plain yogurt
**Assembly:**
Sesame seeds for the top

1

egg yolk and 1 tablespoon milk for egg wash

1-2

tablespoons

butter or ghee to brush on the naans
Instructions
Mix all the dough ingredients in the bowl of a stand mixer. Use the dough hook attachment and knead for 7-8 minutes until you have a smooth, soft, and stretchy dough. Transfer it to an oiled bowl, cover, and let it rest in a warm, humid spot for 2 hours or until it doubles in size.

Divide the dough into 8 equal pieces (about 120g each) and roll each piece into a ball. Cover them with a wet tea towel and let them rest for 20 minutes.

Heat a cast iron skillet on the stove over medium-low heat.

Working with one ball at a time, roll it gently with your hands or a rolling pin on a lightly floured surface. Aim for a naan that's 7-8″ in diameter.

Gently transfer the naan onto the skillet, turn the heat to medium-low, and use a wet naan stamp to create the Roghni Naan shape. Brush it generously with egg wash and sprinkle sesame seeds over the top.

Cook the naan for 3-4 minutes per side until it turns golden. Brush it with butter immediately, then cover it or enjoy it fresh.

Repeat these steps until all the naans are cooked. Get ready to savor the homemade goodness! 🍞✨