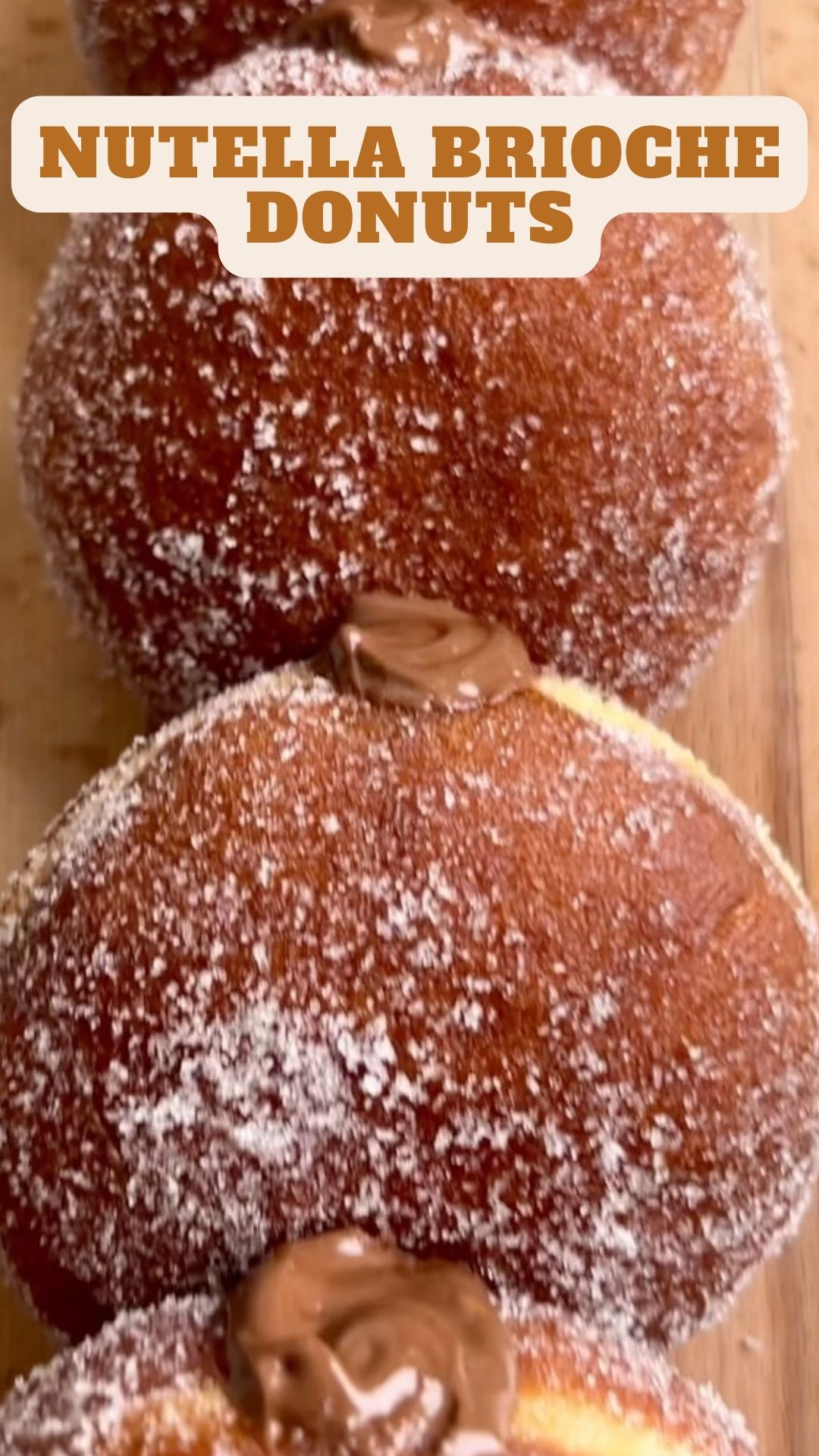 These treats are absolutely amazing! The texture and flavor are like a warm burst in your mouth. You definitely don't want to miss trying these!
Nutella Brioche Donuts
Ingredients
Dough:
Tangzhong: 4 tbsp milk

50g, 1 tbsp flour (10g)

3/4

cup

milk

180g

1.5

tsp

yeast

3

cups

all-purpose flour

400g

2

tbsp

milk powder

15g

1/4

cup

sugar

50g

1

large egg

at room temperature

5

tbsp

softened butter

divided into 2 parts (70g)

1/2

tsp

salt
Assembly ingredients:
1

cup

sugar for coating

200g

250-300

g

Nutella mixed with 1-2 tbsp oil
Instructions
Start by making the tangzhong. Just stir the flour and milk in a nonstick pan over medium heat until they form a thick paste.

Mix the tangzhong with milk and yeast and let it sit for 5 minutes.

Add all the other ingredients for the dough, leaving half of the butter. Knead at medium-high speed for 5 minutes.

Add the remaining butter and knead again for 5-8 minutes until you have a smooth and stretchy dough.

Cover and let it rise for 1 hour (or overnight in the fridge).

Roll the dough into a 1/2 inch thick sheet. Cut out 4" circles. Repeat until all the dough is used up.

Place the donuts on pieces of parchment and transfer to a tray. Let them rest for about 45 minutes in a warm place.

Heat 2-3 inches of oil in a wok over medium heat. Once it reaches 350F, carefully drop in a test donut and cook for about 2 minutes per side. Test for doneness and adjust timing as needed. Fry all the donuts, keeping the raw ones in a cool place so they don't overprove.

While warm, dip the donuts in sugar and coat generously.

Microwave the Nutella for 5-10 seconds and add the oil to make it a bit runnier. Transfer to a piping bag with a Bismarck tip.

Fill your donuts with 20-25g Nutella each.

Serve and enjoy! These are best eaten fresh but are good for a day.