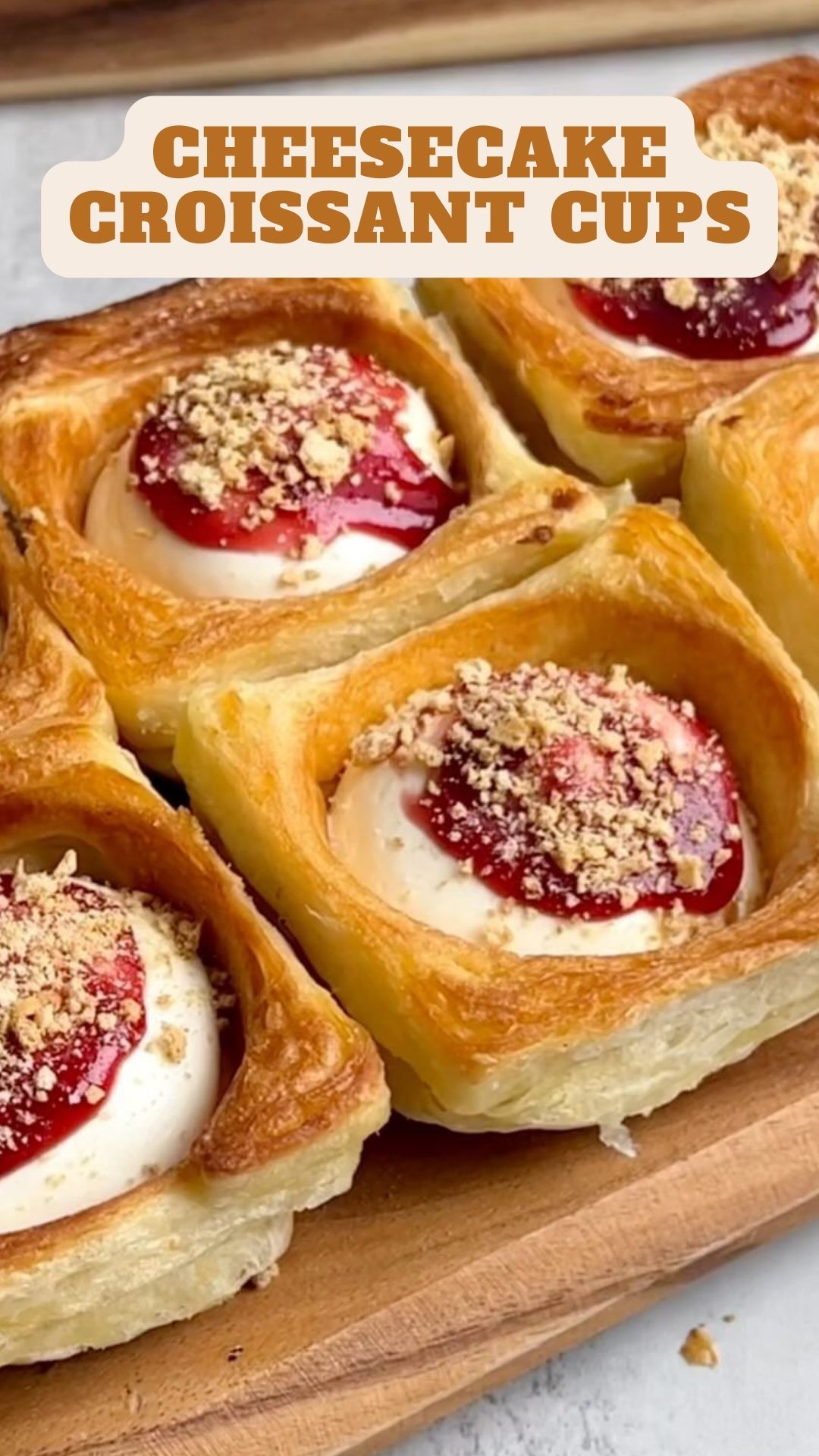 Cheesecake Croissant Cups are delightful treats that combine crispy, flaky cups with a rich, no-bake cheesecake filling. The best part? You can easily make these croissant buns and fill them with whatever you crave! Exciting, right? Let's get started!
Cheesecake Croissant Cups
Ingredients
1

sheet of prepared croissant dough

approximately 9×16 inches, or you can use puff pastry

1

egg + 1 tbsp milk for an egg wash

12

oz

cream cheese

equivalent to 350g, at room temperature

1/2

cup

sugar

about 100g

1

tsp

vanilla extract

1/4

tsp

salt

2-3

tbsp

lemon juice

1/2

cup

sour cream

about 130g

1/2

cup

heavy cream

whipped to medium peaks (about 130g)

4

tbsp

berry jam

2

tbsp

water

1

tbsp

sugar

2-3

Graham crackers
Instructions
Brush butter on the upside-down muffin pan.

Take 3×16 inches of croissant sheet and refrigerate. Divide the remaining 6×16 inches into 9 strips along the length (approximately 2/3 inch each).

Gently stretch and roll each strip around a muffin cup, ensuring no gaps. Press down to hold the strip's shape.

Cut the remaining 3×16 inches sheet into two 3×8 inches sheets. Roll each into a log, similar to a cinnamon roll, and cut into 9 circular pieces.

Place each circle on a flat surface, roll it out slightly larger than the cup's base, and place it onto the cup. Stretch to seal it with the strips placed earlier. Work one piece at a time, keeping the rest in the fridge.

Proof cups at room temperature for 2 hours until nicely puffed up. Preheat the oven to 350°F.

Brush with egg wash and place the tray in the oven. Bake for 20 minutes, then put some weight on top of the cups to flatten them (e.g., a light baking sheet). Bake for an additional 10-15 minutes with the weight.

Whisk cream cheese and sugar until combined. Add sour cream, lemon juice, vanilla, and salt, then fold in whipped heavy cream.

Heat jam with water and sugar until they form a thick syrup.

Separate each cup, fill with cheesecake batter, and top with syrup and crushed Graham crackers.

Refrigerate for 2-3 hours, then serve and enjoy these scrumptious Cheesecake Croissant Cups!