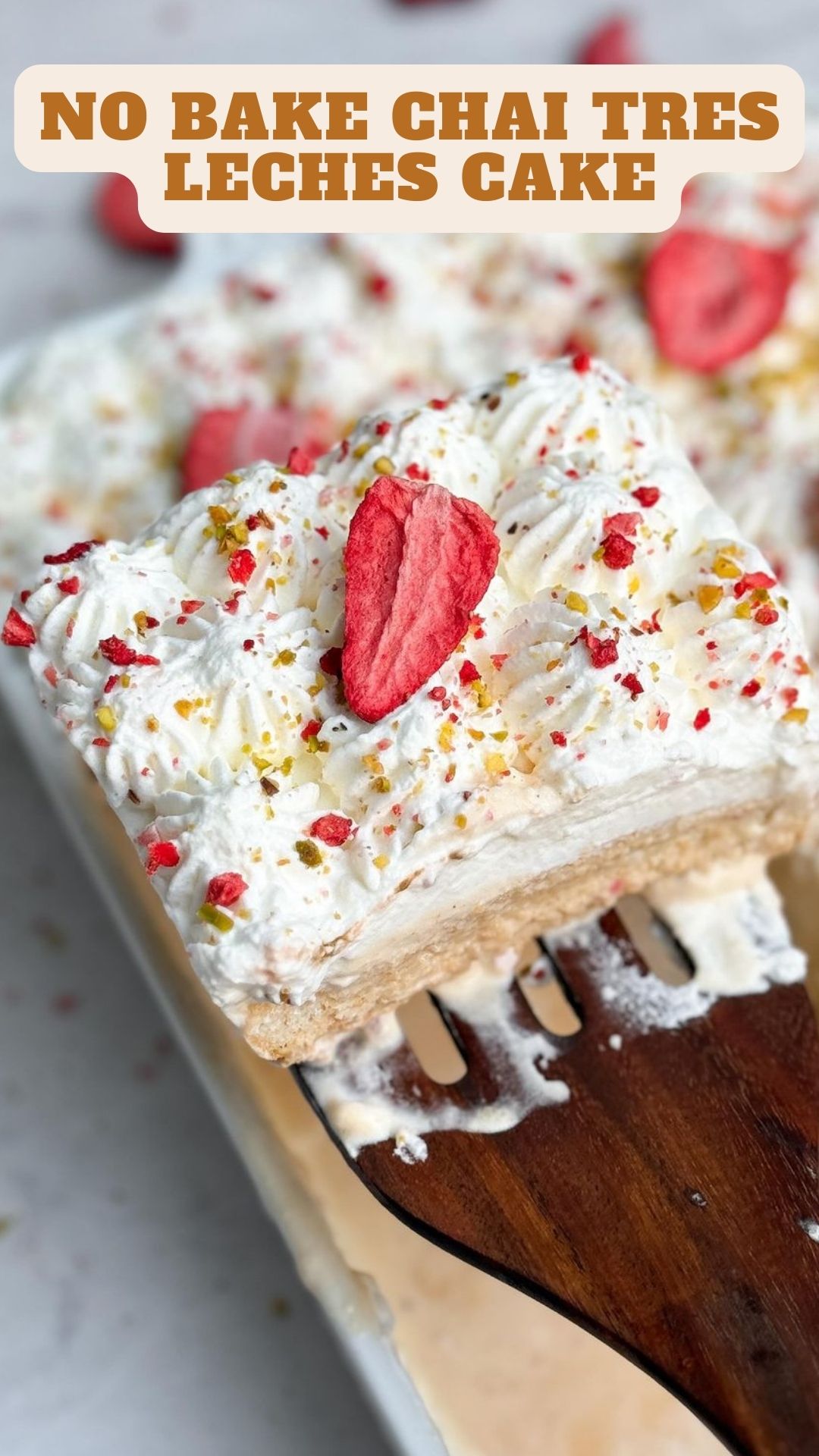 Hey chai enthusiasts! Get ready for a treat with this No Bake Chai Tres Leches Cake that's just for you. This amazingly moist cake infused with delightful chai flavor is a breeze to make—only 7 ingredients and 15 minutes of effort!
Can you believe how easy it is? The taste and appearance are absolutely fantastic.
No Bake Chai Tres Leches Cake
Ingredients
1

cup

240g milk

2-4

tablespoons

chai

adjust to your chai preference

¼

teaspoon

cardamom powder

Approximately ¾ of a 14 oz can

300g sweetened condensed milk

1 14

oz

can

400g evaporated milk

About 35-40 ladyfingers

from 1.5 packs of 24 ladyfingers each

1 ½

cups

360g heavy cream for decoration

Optional: freeze-dried strawberries and pistachios for decoration
Instructions
In a saucepan, simmer 1 cup of milk, 2-4 tablespoons of chai, and ¼ teaspoon of cardamom on medium-low heat for 3-5 minutes to create the chai mixture.

Whisk together the evaporated milk, sweetened condensed milk, and strained chai to create the three-milk mixture. Adjust the flavor according to your liking.

In a clean 7×11″ dish, stack ladyfingers tightly to form one layer. Fill gaps by trimming ladyfingers.

Use a ¼ cup measure to drench the ladyfingers with half of the chai mixture. Don't worry about it seeming like a lot—the ladyfingers will absorb it.

Wait 10-20 minutes for the ladyfingers to soak up most of the chai mixture.

Repeat the process for the second layer of ladyfingers.

Place the dish in the fridge for about 2 hours.

Meanwhile, whip the heavy cream to stiff peaks.

Spread half of the whipped cream on top of the ladyfingers, using an offset spatula to even it out.

Pipe the remaining half in dollops using a French star tip.

Decorate with crushed freeze-dried strawberries and chopped pistachios.

Serve and enjoy this delightful No Bake Chai Tres Leches Cake!