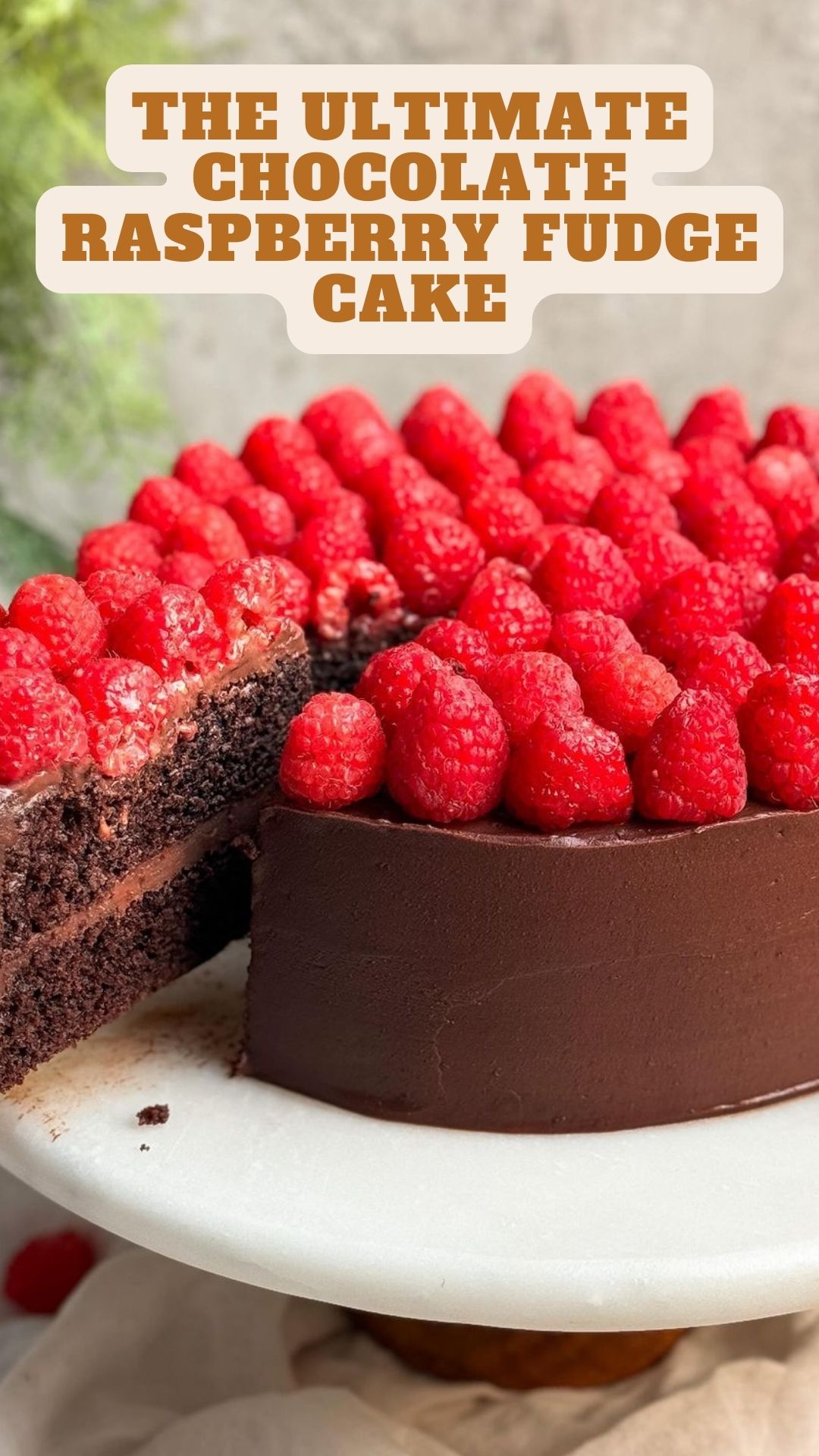 Get ready for a mouthwatering treat because I am beyond thrilled to share this amazing Chocolate Raspberry Fudge Cake recipe with you – hands down, the best chocolate cake I've ever made!
Being a dedicated fan of the British Bake Off for years, I always dreamed of recreating the gorgeous Chocolate Cake with raspberries from the show's opening credits. Thanks to the return of the bake-off, I finally gathered the inspiration needed, and let me tell you, the outcome exceeded all my expectations!
This recipe is a game-changer. The cake is not only delicious but also super easy to make. It's moist, rich, and full of chocolatey goodness. The luscious ganache and fresh raspberries perfectly tie everything together.
The ULTIMATE Chocolate Raspberry Fudge Cake
Ingredients
Chocolate Cake:
2

cups

all-purpose flour

260g

1

cup

granulated sugar

220g

½

cup

brown sugar

100g

2

tsp

baking powder

1

tsp

baking soda

1

tsp

salt

2

eggs

⅔

cup

vegetable oil

133g

1

cup

sour cream

240g

2

tsp

instant coffee

½

cup

boiling water

120g

½

cup

cocoa powder

preferably Dutch-processed (50g)
Chocolate Ganache:
300

g

dark or semi-sweet chocolate

chips or chopped

¼

cup

unsalted butter

diced (56g)

1 ¾

cups

heavy cream

420g
Instructions
Chocolate Cake:
Preheat your oven to 350F and line two 8″ pans with parchment paper.

In a large bowl, mix together flour, granulated sugar, brown sugar, baking powder, baking soda, and salt until there are no lumps.

Add eggs, vegetable oil, and sour cream, whisking gently until combined, avoiding overmixing.

In a separate bowl, mix boiling water with coffee and cocoa powder.

Add the cocoa powder mixture to the batter and gently mix until a smooth chocolate cake batter forms. Be careful not to overmix.

Divide the batter equally between the two lined pans and bake for approximately 30 minutes.
Chocolate Ganache:
In the meantime, bring heavy cream and butter to a boil in a saucepan. Pour over the chocolate, cover, and wait 5 minutes. Then, stir gently until a smooth shiny ganache forms. Refrigerate until the ganache reaches a thick, spreadable consistency (this may take a few hours).
Assembly:
Once the cakes are baked, let them cool in the pans for 15 minutes, then turn them out and let them cool completely. Consider chilling them in the freezer.

When the cakes are chilled and the ganache is spreadable, it's time to assemble. Trim off the tops (domes) of the cakes and layer them with a thick ganache in between.

Cover the cake with a thin layer of ganache for a crumb coat. Refrigerate until the crumb coat is set.

Frost the cake generously with the remaining ganache, making the edges as neat as possible.

Top it off with fresh raspberries, and voila – it's ready to be served and enjoyed!
Notes
Ensure accurate ingredient measurements for the best results.
Allow the cakes to cool completely before handling, cutting, or frosting.
Let the ganache cool in the fridge until it's spreadable and pipeable like buttercream.