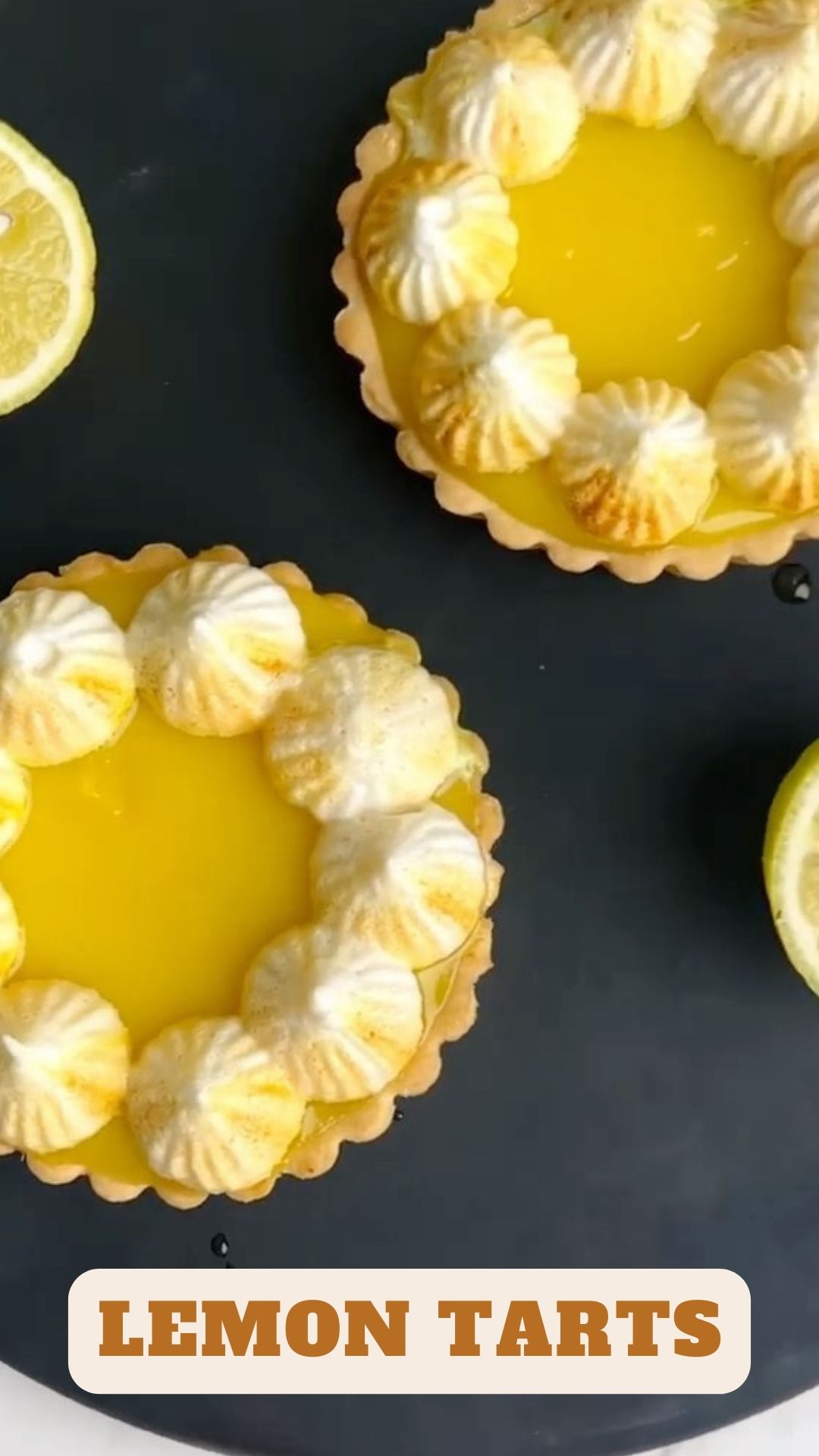 Making delicious lemon tarts is way simpler than you might think! Check out my easy recipe below for a mouthwatering treat 🍋🤤
Lemon Tarts
Ingredients
**Crust:**
3

tablespoons

45g butter, at room temperature

1/3

cup

powdered sugar

1

egg

1/4

teaspoon

salt

1

cup

all-purpose flour

slightly less than a full cup
**Lemon Curd:**
1/2

cup

lemon juice

1/4

cup

water

2

eggs

2

egg yolks

2/3

cup

granulated sugar

3

tablespoons

butter
**Italian Meringue:**
1/2

cup

granulated sugar

3

tablespoons

water

2

egg whites and a pinch of salt
Instructions
**Prepare the Crust:**
Whisk together butter and powdered sugar until creamy.

Add the egg and whisk until well combined.

Stir in the flour and salt until a dough forms.

Shape the dough into a ball, wrap in cling wrap, and refrigerate for 30 minutes.
**Make the Lemon Curd:**
Combine all curd ingredients (except butter) in a nonstick pan.

Cook on medium-low heat, stirring constantly, until the mixture thickens and coats the back of a spoon.

Add butter and cook for an additional 1-2 minutes, stirring constantly, until the curd has a thick but flowy consistency.
**Prepare the Tart Shells:**
Preheat the oven to 325°F.

Divide the chilled dough into 3 parts and roll each out gently.

Cover tart pans with the dough, avoiding stretching.

Prick the dough with a fork.

Bake the tart shells for about 20 minutes until they develop a slight color.
**Fill and Chill:**
Allow tart shells to cool, then fill them with the prepared lemon curd up to the brim.

Place the tarts in the refrigerator.
**Italian Meringue:**
In a nonstick pan, mix sugar and water until it reaches 230°F.

Whisk egg whites with salt until frothy.

When the sugar mix reaches 240°F, slowly add it to the egg whites while whisking at high speed.

Continue whisking until the mixture cools and forms a shiny, thick meringue.
**Decorate and Serve:**
Decorate the tarts with the Italian meringue (or use whipped cream for an easier option).

Serve and enjoy your delightful homemade lemon tarts!