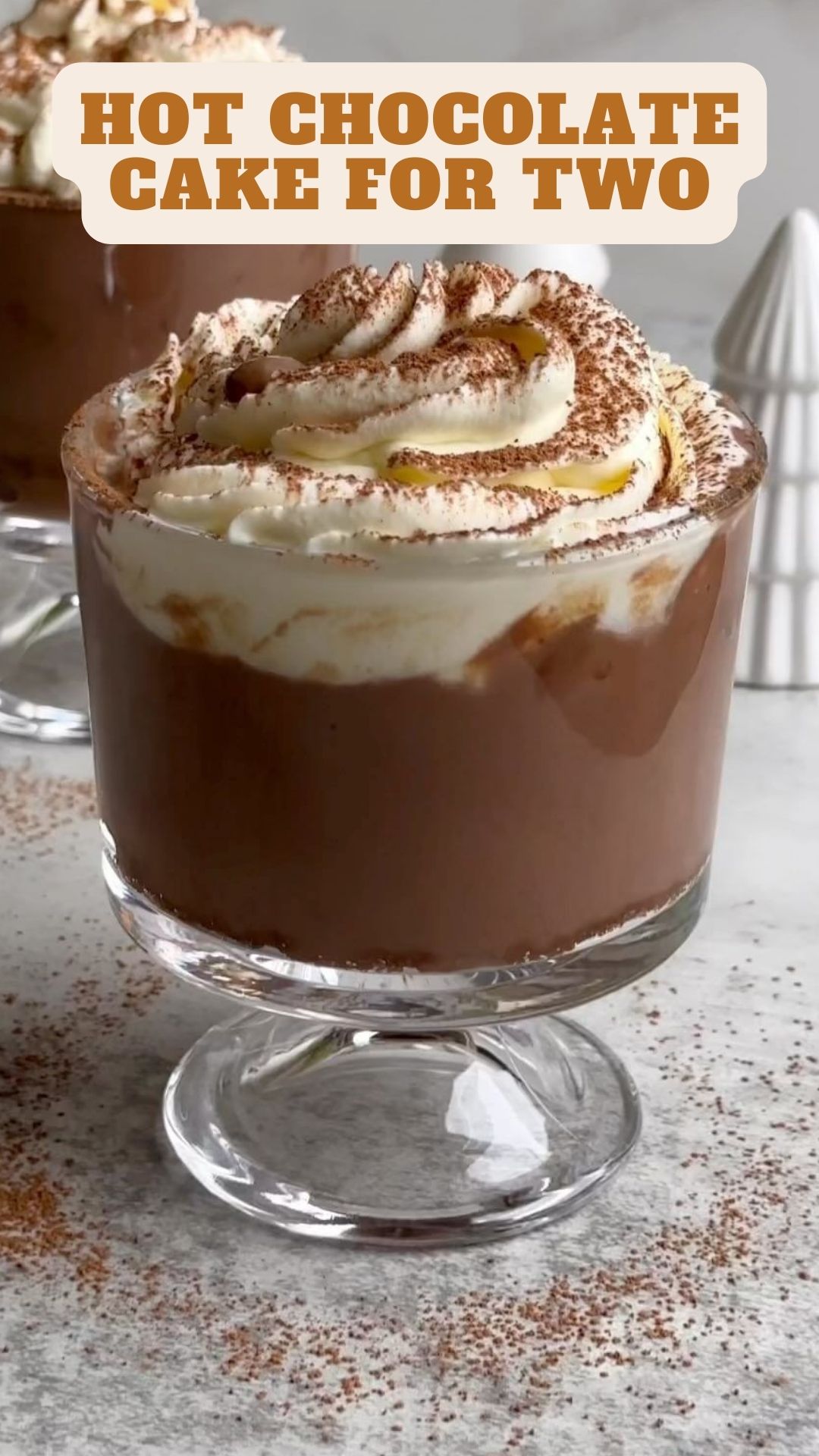 I've been dreaming about making these treats for a long time, and I'm thrilled with the results! They're not just delicious and cute; they also resemble hot chocolate, but surprise – they're actually cake.
Hot Chocolate Cake For Two
Ingredients
**Cake Ingredients:**
1

large egg

2.5

tablespoons

sugar

2

tablespoons

all-purpose flour

2

teaspoons

cocoa powder

1/8

teaspoon

salt

1/4

teaspoon

baking powder
**Hot Chocolate Ingredients:**
1

cup

milk

250g

1

tablespoon

sugar

1

tablespoon

cocoa powder

1/4

cup

semi-sweet chocolate chips

40g

1/2

teaspoon

corn starch

Pinch

of salt

Whipped cream

store-bought or homemade
Instructions
Preheat your oven to 350°F and prep two ramekins with butter and cocoa powder.

Whisk the egg and sugar vigorously for 3-5 minutes until it becomes light in color, thick, and ribbony in texture.

Sift in the dry ingredients and gently fold until just combined. Be careful not to overmix and lose the airy texture.

Divide the batter equally between the two ramekins.

Bake for 13-15 minutes or until a toothpick comes out clean.

Meanwhile, prepare the hot chocolate. Whisk all ingredients (except chocolate) in a pan. Add chocolate and cook on medium-low heat for 7-10 minutes until you achieve a creamy consistency, somewhere between regular hot chocolate and ganache – not too thick or runny.

Once the cakes are done, remove them from the ramekins and slice each into two layers.

Place one cake layer into each of two glass mugs or dessert cups. Pour about 1/4 cup of hot chocolate into each, then add the remaining cake layers and hot chocolate.

Finish it off by piping whipped cream onto the cakes and dusting with cocoa powder.

Serve it up while it's still hot! Enjoy this delightful treat!