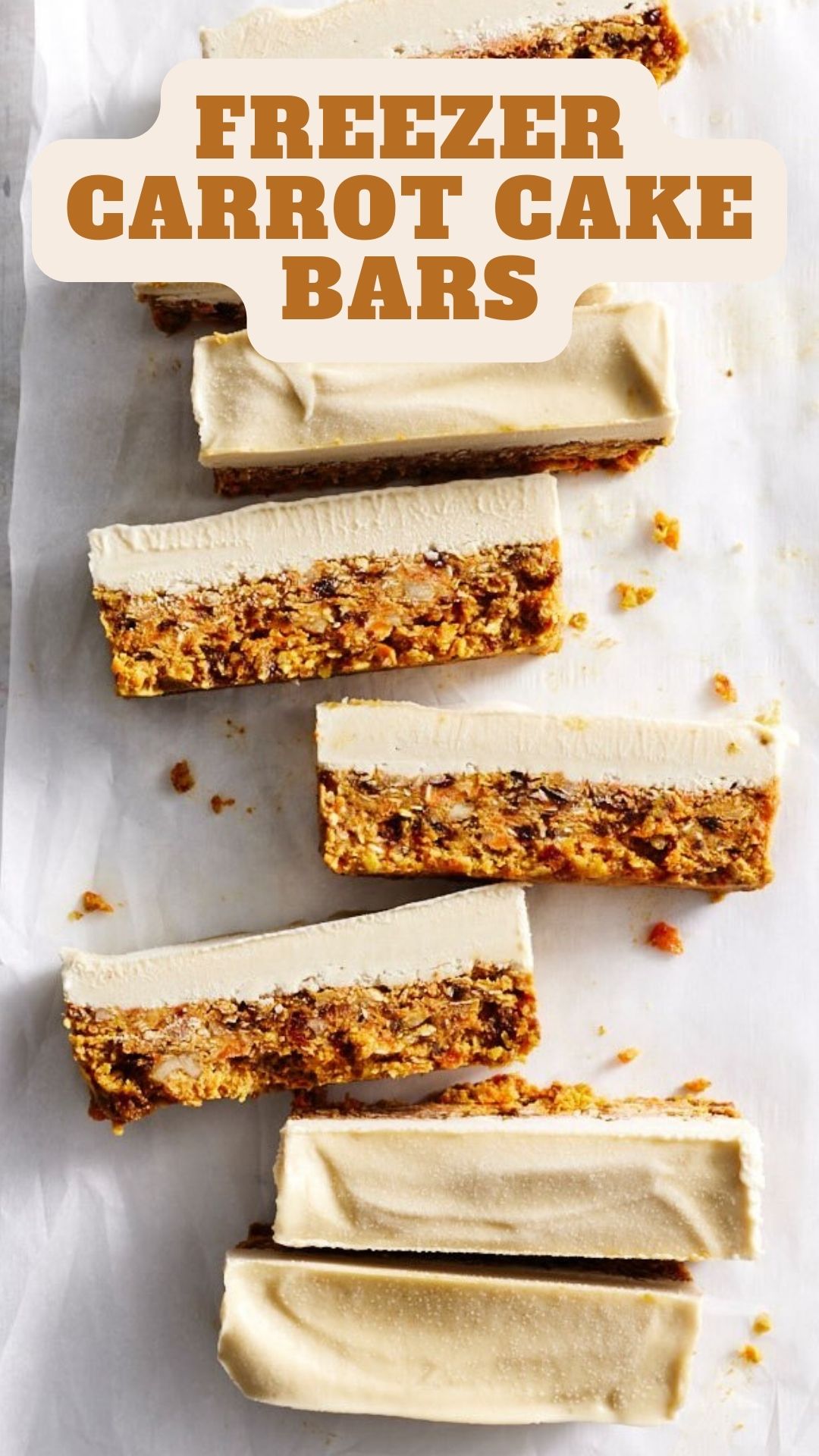 Imagine having a batch of these tasty bars ready in your freezer whenever you crave a delightful treat. I'm sure you'll enjoy them as much as I do!
Introducing No-Bake Freezer Carrot Cake Bars, a simple and wholesome dessert that will fulfill your carrot cake desires. Not only are they gluten-free, oil-free, and vegan, but they're also free from refined sugar. To top it off, we add a drizzle of white chocolate for a delightful and enjoyable twist.
Freezer Carrot Cake Bars
Ingredients
1 ¾

cups

rolled oats

1 ⅓

cups

walnuts

chopped or halved

½

cup

pecans

chopped or halved

1

cup

shredded carrots

⅓

cup

unsweetened coconut flakes

10

Medjool dates

softened in hot water for 10 minutes if needed

¼

cup

raisins

2

tablespoons

maple syrup

optional

½

teaspoon

salt

1

teaspoon

cinnamon

¼

teaspoon

nutmeg

⅓ to ½

cup

white chocolate chips or vegan white chocolate chips
Instructions
Start by placing rolled oats in a food processor and grind them until they turn into flour. Pour the flour into a bowl.

In the now-empty food processor, add walnuts, pecans, and shredded coconut. Pulse until you achieve a coarse, flour-like texture. Don't process for too long at this stage. Add oat flour and pulse a couple of times to combine.

Add shredded carrots, maple syrup (if using), dates, raisins, cinnamon, nutmeg, and salt. Process until a sticky dough forms. You might need to scrape the sides of the food processor bowl with a spatula a couple of times. The dough should be uniform but not completely smooth; small pieces of carrot and nuts are perfectly fine.

Remove the dough from the food processor and form a ball.

If you're creating shapes with a cookie cutter, place the dough ball on a piece of parchment paper. Cover it with a second sheet of parchment paper, flatten with your fingers, and roll with a rolling pin to about ½ inch thick. If it's very sticky, a light sprinkle of coconut flour, arrowroot, or tapioca flour can be used.

Put the rolled-out dough in the freezer for about 10 minutes to firm up. Meanwhile, line a baking sheet with parchment paper.

Remove the dough from the freezer, cut out 10-12 shapes, and place them on the prepared baking sheet. Freeze for 1 hour.

For bars, line an 8×8 inch baking pan with parchment paper, transfer the dough, and use your fingers or the back of a measuring cup to smooth it out. Freeze for 1 hour.

For the topping, melt white chocolate chips in a microwave-safe bowl in 20-second increments. Place the melted white chocolate in a small ziplock bag, cut the tip off, and drizzle it over the cold carrot cake bars. Return to the freezer for 15 minutes to let the chocolate set. If you're making bars in the cake pan, drizzle the white chocolate over the frozen dough before cutting into squares. Allow the chocolate to set (in the fridge or freezer) and then cut into squares or rectangles.

Serve right away or store in an airtight container lined with parchment or wax paper in the refrigerator for up to 5 days or in the freezer for up to 3 months.

Enjoy these delicious and healthy carrot cake bars anytime you need a sweet pick-me-up!