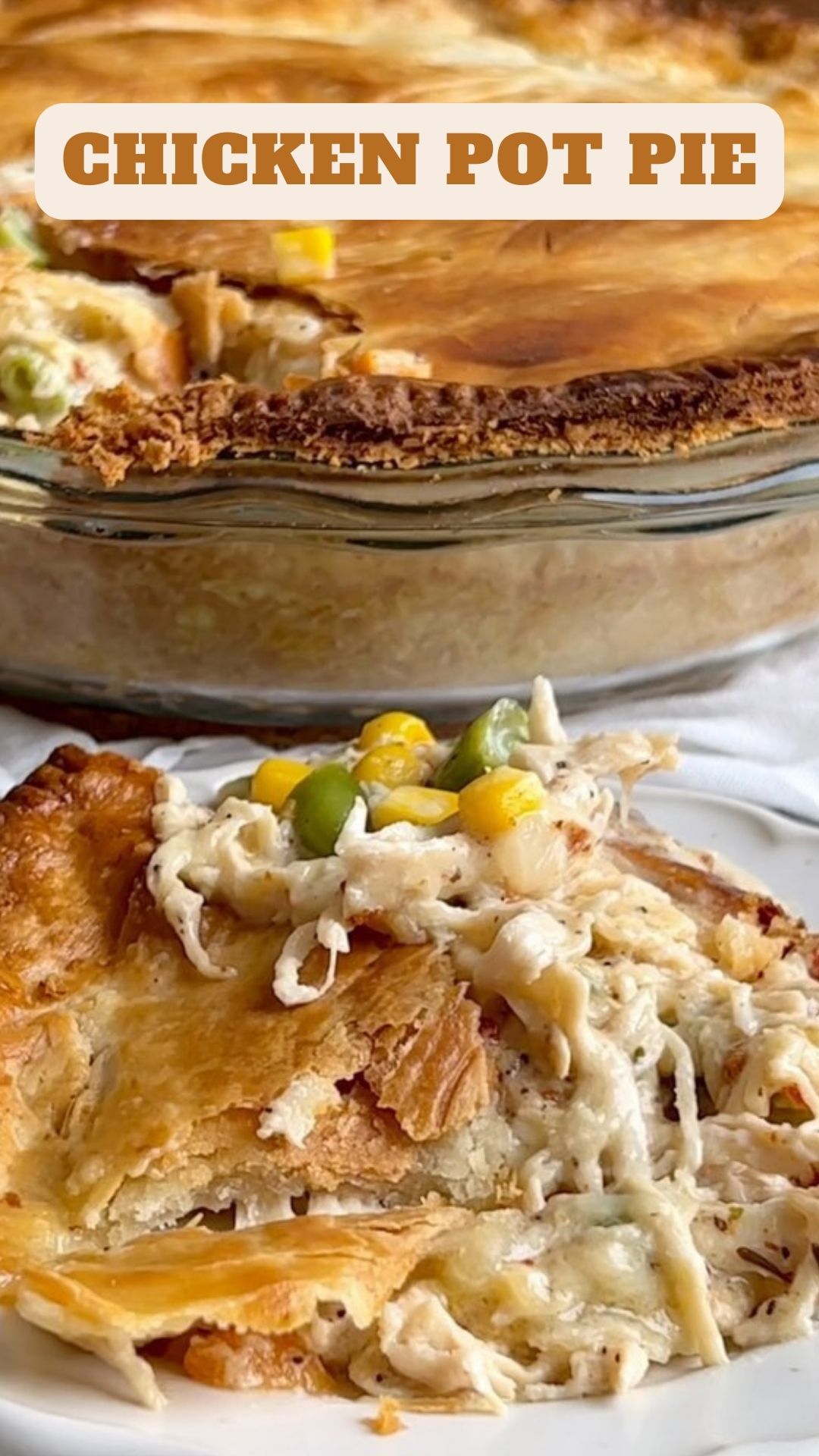 Craving something delicious right now: Chicken Pot Pie! Imagine a golden, flaky pastry and a warm, creamy, and hearty filling that makes you say, "Yes!"
Let's talk about the ultimate comfort food – homemade Chicken Pot Pie. It's easy to whip up, freezer-friendly, and a hit with the whole family. Take it up a notch by using my homemade pie crust!
Chicken Pot Pie
Ingredients
2

tablespoons

olive oil

4

tablespoons

butter

1/2

onion

finely chopped

1-2

tablespoons

minced garlic

4

tablespoons

flour

2

cups

milk

1

teaspoon

each salt

pepper, chili flakes, and oregano (adjust to taste)

3/4

cup

shredded mozzarella cheese

optional

2

cups

cooked shredded chicken

1 1/2

cups

chopped frozen veggies

corn, carrots, and peas work well
**Crust:**
2 2/3

cups

flour

1

cup

butter

cold & cubed

2

teaspoons

sugar

1

teaspoon

salt

4-5

tablespoons

ice-cold water

Egg wash
Instructions
Make the pie dough by combining butter with dry ingredients, then add water until the dough starts coming together. Chill in the fridge.

Preheat the oven to 400°F and butter a 9" pie dish.

Heat oil and butter in a nonstick pan over medium heat. Sauté onion until translucent, then add garlic and sauté for a minute.

Add flour and milk, stirring until thick and creamy.

Add spices and cook for a minute. Turn off the heat and add chicken, veggies, and cheese. Mix and set aside.

Roll out the pie dough, creating layers, and cover the pan. Prick with a fork and fill with the prepared filling.

Roll out the remaining dough and cover the pie, pinching the edges and creating a crimping pattern with a fork.

Generously brush with egg wash.

Bake for 30 minutes until golden and crispy. If it browns too much, cover with aluminum foil.

Serve hot and enjoy the delightful Chicken Pot Pie!