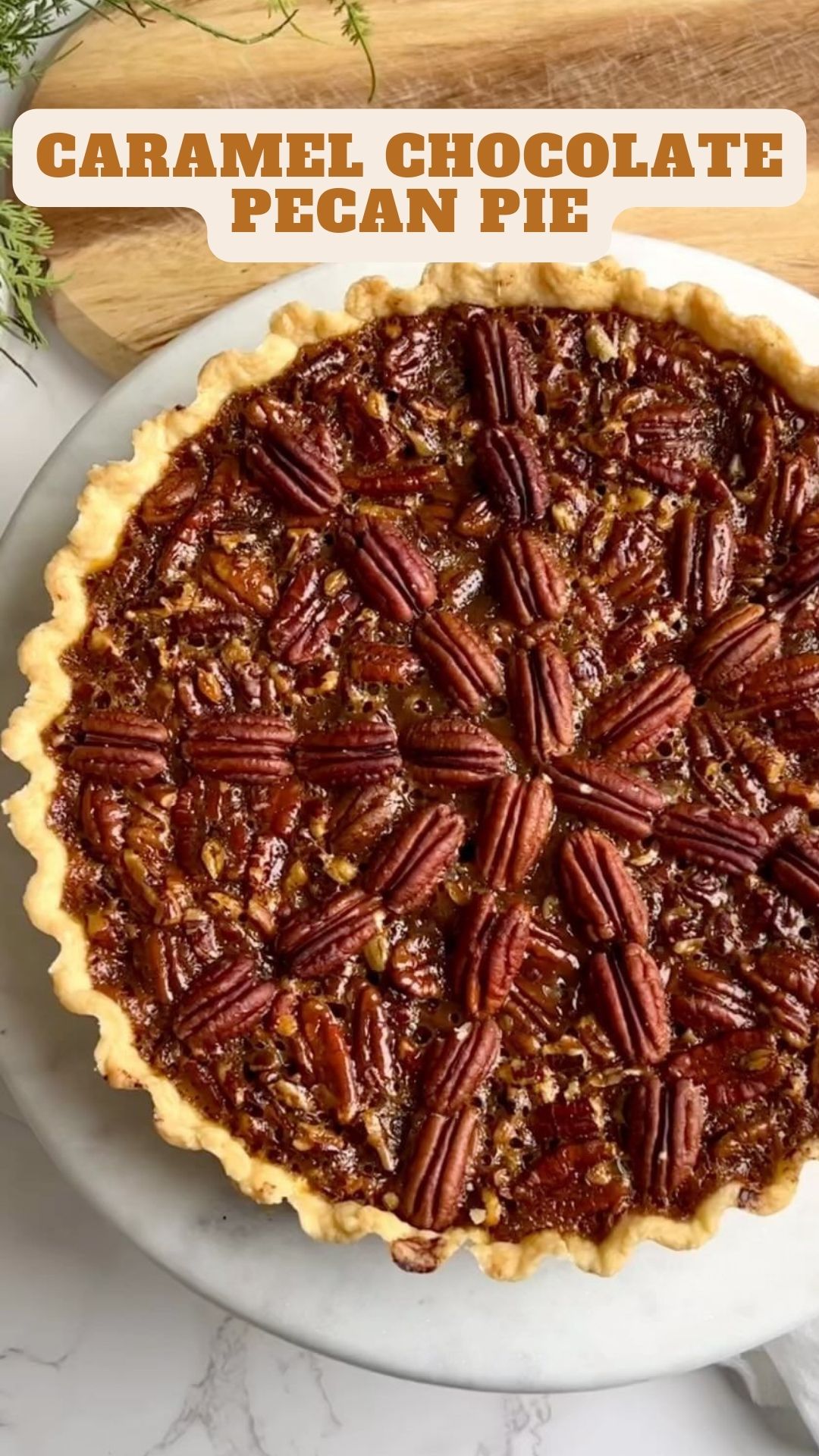 Get ready to take your Thanksgiving dessert to a whole new level with this amazing Caramel Chocolate Pecan Pie! Say goodbye to the usual icky corn syrup filling and say hello to a delightful brown sugar caramel paired with a luscious chocolate ganache layer. Trust me, you'll be hooked!
Caramel Chocolate Pecan Pie
Ingredients
For the crust, you'll need:
1 1/3

cups

of flour

175g

1/2

cup

of cold

cubed butter (113g)

2

tsp

of sugar

1/2

tsp

of salt

2

tbsp

of ice-cold water
Now, let's talk about that pecan filling:
3/4

cup

of white sugar

150g

1/2

cup

of brown sugar

100g

1

cup

of room-temperature heavy cream

240g

1/4

cup

of butter

60g

1

whisked egg

3

cups

of chopped pecans

360g, lightly roasted. I like to use a mix of halves and pieces

3/4

tsp

of salt
And don't forget the heavenly ganache:
100

g

of dark chocolate

1/4

cup

of heavy cream

60g
Instructions
Mix the butter into the flour, sugar, and salt. Add water and gently knead until the dough comes together. Wrap it in cling film and let it chill in the fridge for 30 minutes.

Preheat the oven to 350F and butter your pan.

Roll out the dough and place it in the pan. Prick it with a fork, cover it with parchment paper filled with rice or beans, and bake for 8 minutes.

In a pan, melt the sugars over low heat until smooth. Add cream gradually, stirring until the caramel is smooth. Mix in butter and salt. Let it cool at room temperature.

Make the ganache by pouring hot cream over the chocolate. Cover and let it sit for 5 minutes, then mix until smooth.

Spread the ganache on the pie crust and refrigerate for 10 minutes.

Once the caramel mix has cooled (~10-15 minutes later), whisk in the egg. Then mix in the toasted pecans.

Transfer the pecan mix to the pie, spread it evenly, and feel free to decorate with more pecans if you'd like.

Bake for about 30 minutes until the pecan mix feels somewhat set.

Allow the pie to cool completely before serving (I actually prefer it refrigerated!). Enjoy!