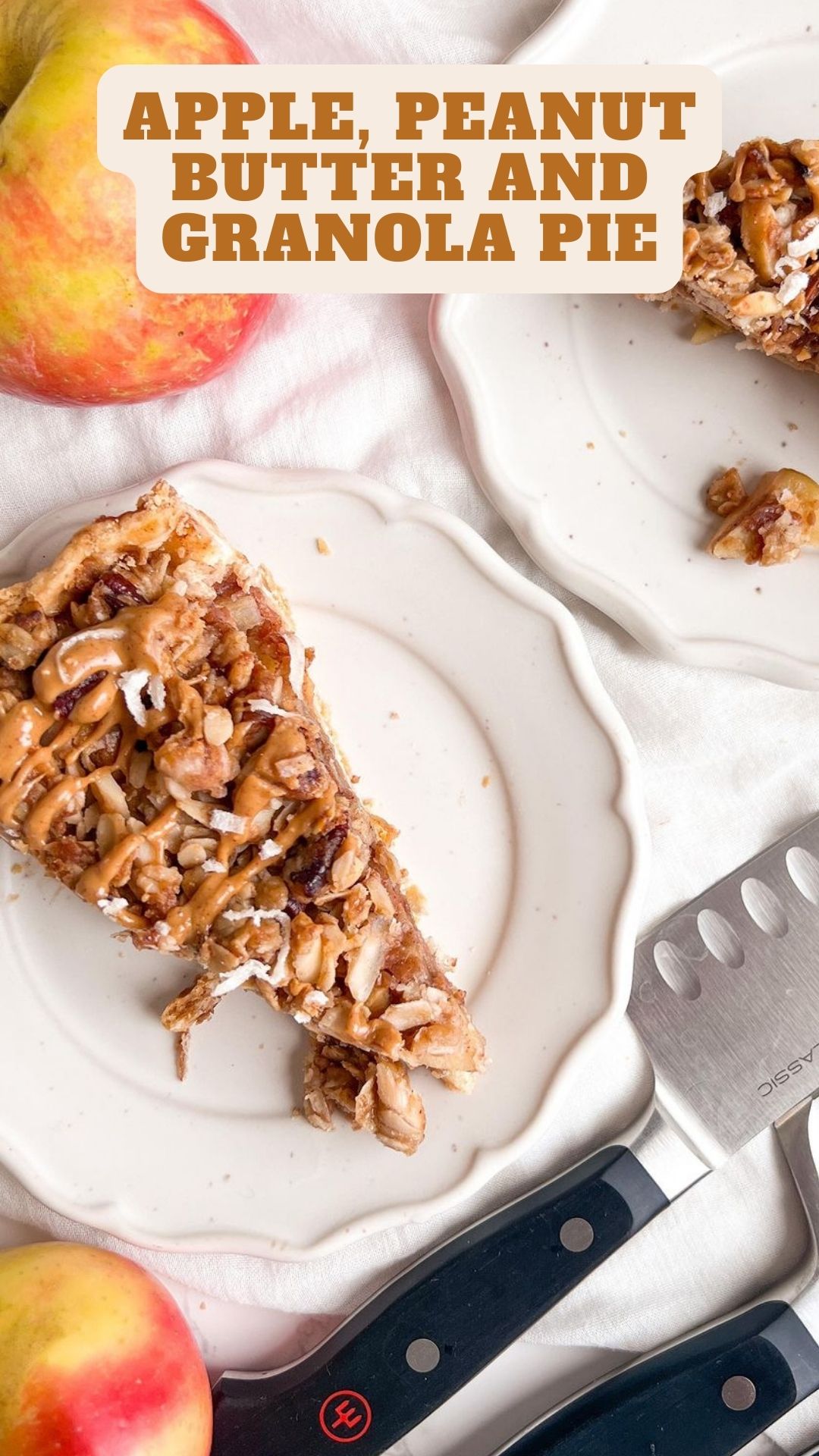 Celebrate Thanksgiving with the ultimate pie experience—my Apple, Peanut Butter, and Granola Pie! This delightful treat combines the sweetness of apples, the creaminess of peanut butter, and the crunchiness of granola for a perfect harmony of flavors.
Apple, Peanut Butter and Granola Pie
Ingredients
For the crust, gather these pantry staples:
1 1/3

cups

all-purpose flour

1/2

cup

cold

cubed butter

2

tsp

sugar

1/2

tsp

salt

2

tbsp

cold water
And for the luscious filling:
6

honeycrisp apples

finely sliced (6-8 cups, depending on your preference)

1/3

cup

brown sugar

2

tbsp

butter

1

tsp

cinnamon

1

tbsp

cornstarch

1

tbsp

all-purpose flour

Juice of 1/2 lemon

1/2

cup

creamy peanut butter
Top it all off with a delightful granola topping:
3/4

cup

rolled oats

1/2

cup

all-purpose flour

2

tbsp

coconut sugar

1/4

cup

chopped pecans

1/4

cup

slivered almonds

3

tbsp

maple syrup

1/3

cup

melted coconut oil

1/4

tsp

cinnamon

1/2

tsp

salt
Instructions
Preheat your oven to 435°F.

Mix the sliced apples with the filling ingredients (excluding peanut butter) and set aside.

Combine the granola ingredients and set them aside.

Prepare the pie crust and transfer it into a 9-inch pan.

Layer half of the apples in the pan, drizzle half of the peanut butter, then add the remaining apples and peanut butter. The apples may look domed, but they'll settle as they cook. Top it all off with the granola.

Cover the pan loosely with aluminum foil and bake for 15 minutes at 435°F. Then, reduce the temperature to 375°F and bake for an additional 30-40 minutes. Remove the foil in the last 5 minutes to achieve a golden top. To check if the pie is done, insert a knife and ensure the apples are soft.

Allow the pie to cool completely before slicing and savoring! For an extra treat, microwave your slice for 15 seconds and serve with cold vanilla coconut yogurt. Delight in the goodness of this Thanksgiving masterpiece!