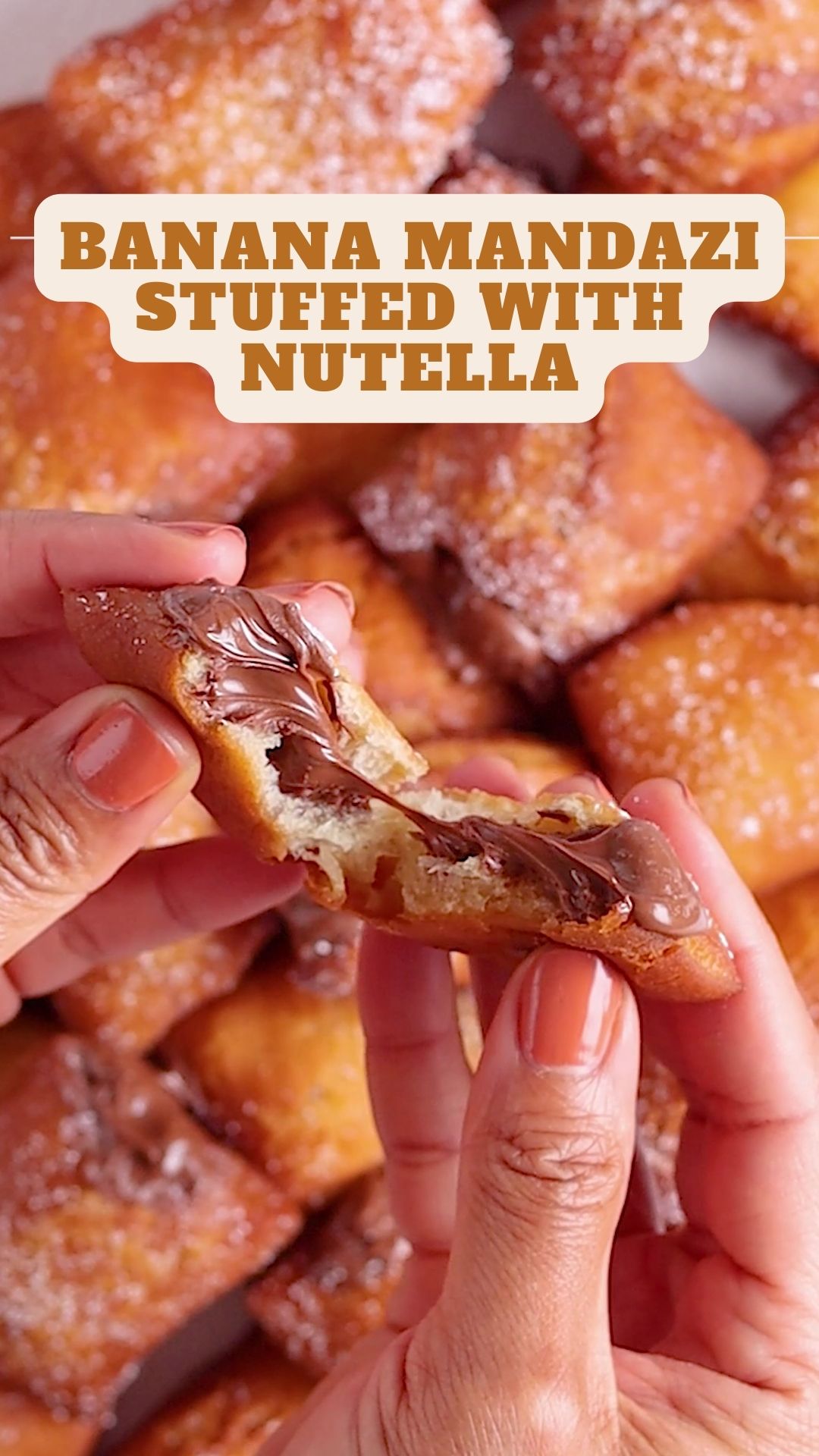 Mandazi, a tasty African donut, is a popular treat in East Africa. You can make it using simple ingredients you probably have in your kitchen. It's a little sweet and smells great, perfect for breakfast or with tea. Want to make it even more delicious? Add Nutella to your Mandazi for the ultimate tea-time snack!
Banana Mandazi Stuffed With Nutella
Ingredients
3 1/2

cups

all-purpose flour

1

teaspoon

cardamom

1/2

teaspoon

salt

1

cup

full-fat unsweetened coconut milk

make sure it's at room temperature

1 1/2

tablespoons

21 g active dry yeast

1/2

cup

sugar

2

large eggs

4

tablespoons

unsalted butter

melted

1

teaspoon

vanilla extract
For the filling:
2

quarts

vegetable oil

for frying

1/2

cup

Nutella

Powdered sugar

optional, for dusting
Instructions
In a big mixing bowl, mix the all-purpose flour, ground cardamom, and salt. Set it aside.

In another bowl, mix the coconut milk, yeast, and sugar until it's well combined. Let it sit for 10 minutes.

Make a hole in the flour mix. Crack in the eggs, then pour in the melted butter. Whisk it well to break the eggs. Slowly stir in the coconut milk mixture with a wooden spoon. Keep stirring until you have a soft, elastic dough. This takes about 5-6 minutes with a stand mixer or 15 minutes if you're kneading by hand. If the dough is too sticky, add more flour.

Grease a big bowl and put the dough in it. Cover it with a clean, damp cloth or plastic wrap. Let it sit at room temperature for about an hour, or until it doubles in size.

Line one baking sheet with a paper towel and another with parchment paper.

Deflate the dough and knead it for about a minute. If it's too sticky, add 2 tablespoons of flour. Divide the dough in half. Roll it on a floured surface into a large rectangle, about ½-1 inch thick. Cut it into rolls, squares, or triangles, about 2×2 inches. Put the shaped dough on the parchment-lined baking sheet and cover it with a kitchen towel.

Heat vegetable oil in a deep skillet, wok, or large Dutch oven over medium-low heat until it reaches 350°F.

Slowly dip in the Mandazi pieces, making sure not to overcrowd the pan. Fry until golden brown on both sides, about 2-3 minutes per side. Repeat until you run out of dough. Make sure the oil is hot enough for that crispy exterior.

Take the Mandazi out of the oil using a slotted spoon and put them on the paper towel-lined baking sheet to get rid of any extra oil.

Put the Nutella® in a piping bag with a long tip. Once the Mandazi has cooled a bit, use a wooden skewer, toothpick, or metal tip to poke a hole in each one and fill it with Nutella®. Sprinkle with powdered sugar if you like. Serve warm with Chai tea if you want to enjoy a delightful treat!