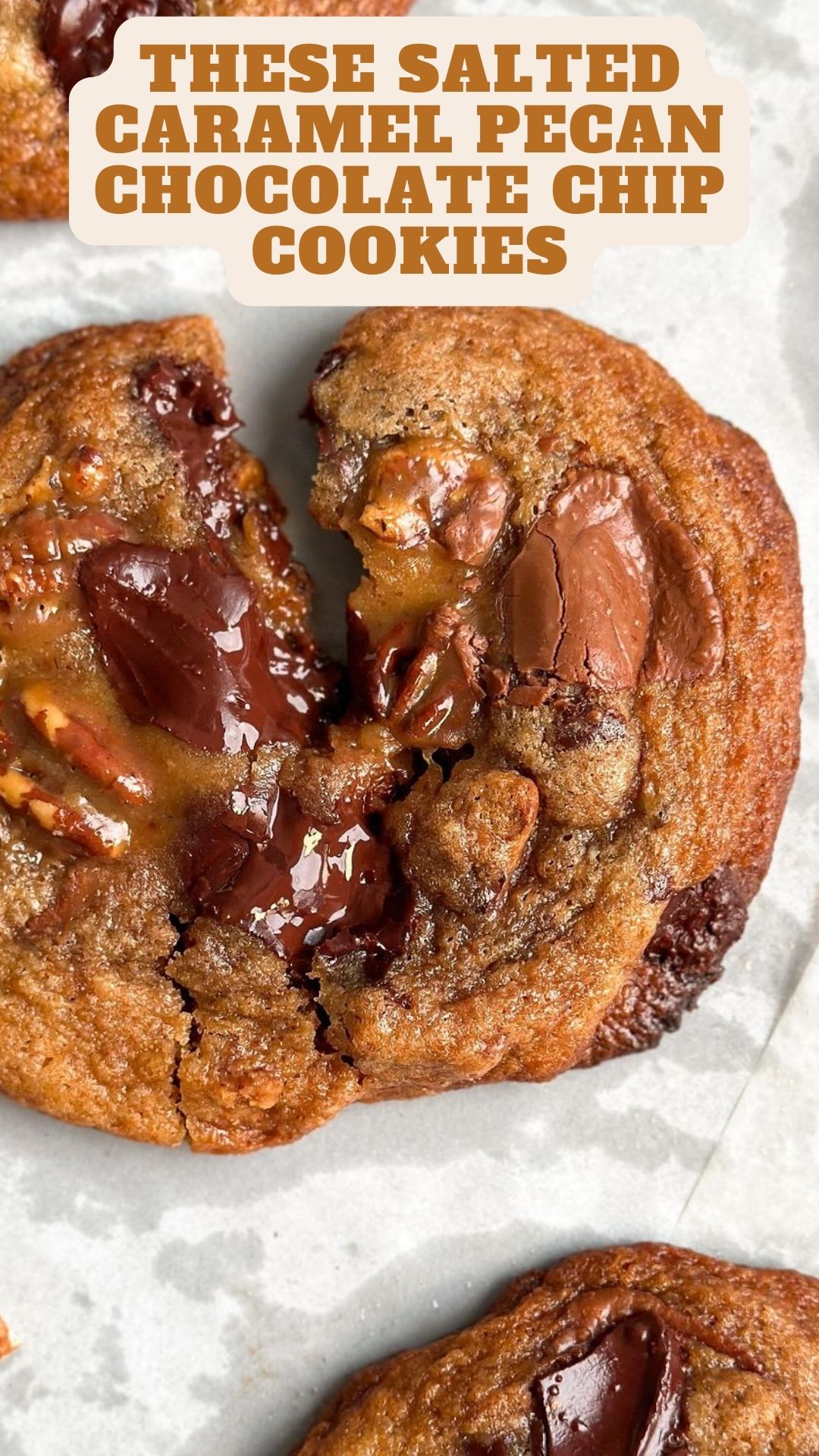 Get ready for the ultimate fall treat with these amazing Salted Caramel Pecan Chocolate Chip Cookies! Imagine the perfect blend of chocolate chip cookies and pecan pie all in one irresistible cookie. It's sweet, salty, caramely, chewy, gooey, and chocolatey – basically, the best cookie ever!
These Salted Caramel Pecan Chocolate Chip Cookies
Ingredients
10

tablespoons

of unsalted butter

140g

1/2

cup

packed light brown sugar

150g

1/4

cup

white sugar

55g

1

large egg

1

egg yolk

3/4

teaspoon

salt

adjust to 1/2 teaspoon if you prefer less salt

1/2

teaspoon

baking powder

1/4

teaspoon

baking soda

1 1/3

cups

all-purpose flour

170g

3

ounces

dark chocolate

113g, chopped

3

ounces

milk chocolate

113g, chopped
For the caramel pecans:
12

soft caramels

such as Werther's

2

tablespoons

cream

3/4

cups

pecan halves & pieces

about 100g, roasted

Salt to taste
Instructions
Toast the pecans at 350°F for 5-7 minutes until they smell fragrant and lose their raw taste.

Melt butter in a non-stick pan on medium-low heat until it turns brown and smells nutty. Add sugars and whisk on low for 1-2 minutes.

Remove from heat and cool for about 5 minutes. Add egg and yolk, whisking until the mixture is light and smooth.

Add dry ingredients and fold until almost mixed. Refrigerate for 10 minutes.

Make salted caramel pecans by melting caramels and cream in a saucepan. Add salt and coat pecans thoroughly.

Fold chopped chocolate and pecans into the cookie dough. Use a 2″ scoop to form 10 balls. Top with chocolate and pecans.

Refrigerate for at least 30 minutes (ideally 2 hours or more).

Preheat oven to 375°F. Place balls on a parchment-lined cookie sheet with 3″ space between them.

Bake for 10-12 minutes for soft, gooey cookies.
Notes
Avoid high heat or prolonged mixing when combining butter and sugar to prevent crystallization. Remove from heat if in doubt.
Use all semi-sweet chocolate instead of a mix of dark and milk.
Freeze dough balls in an airtight container and bake directly from frozen, adjusting baking time by 2-4 minutes based on your preference.