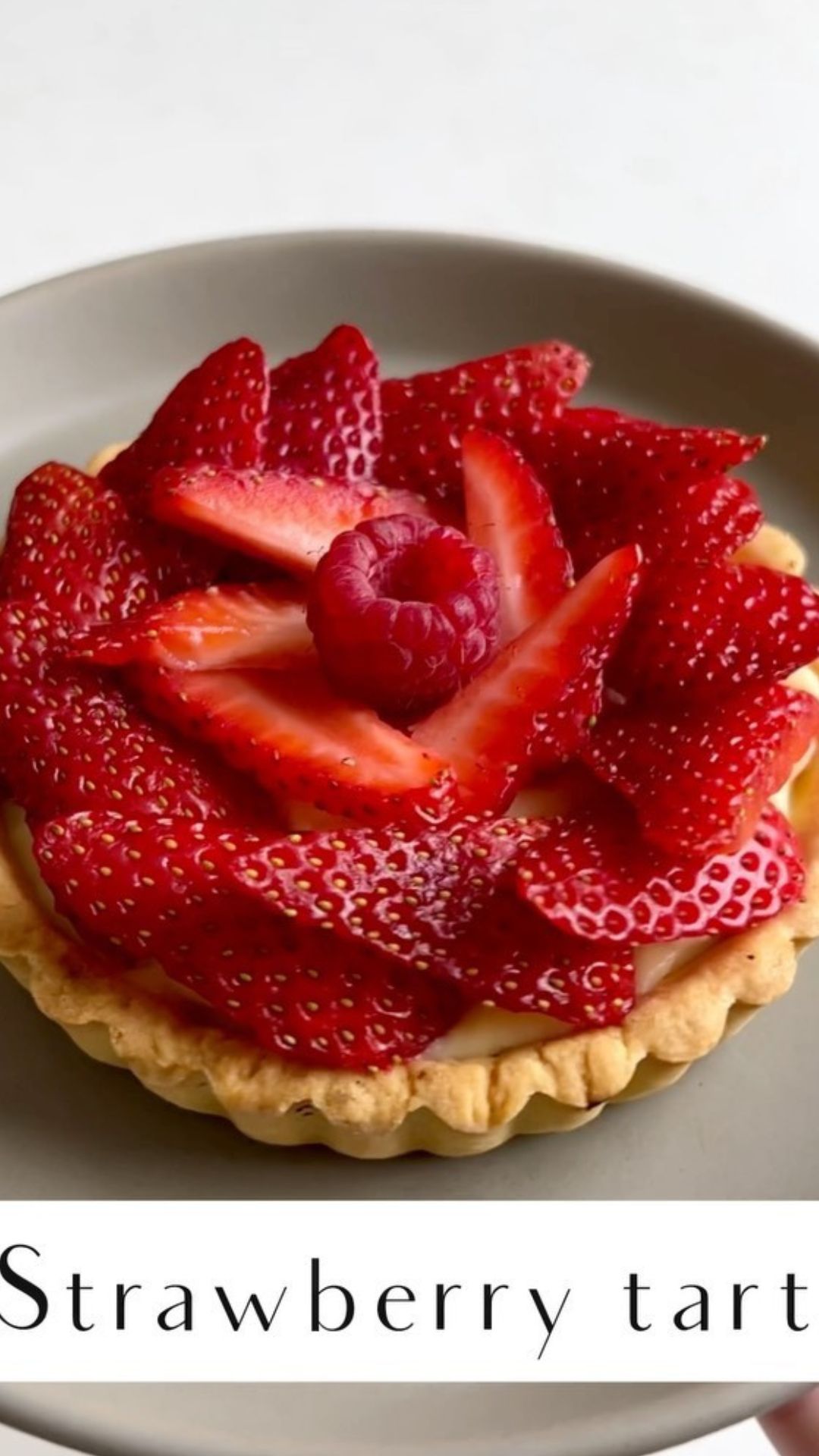 When the weather starts warming up, our craving for strawberry desserts kicks in, and one delightful treat that always takes the lead is this easy strawberry tart. The crust is a breeze to make—no need to chill—with a press-in method that takes away all the dough-related stress while delivering a perfectly buttery goodness. We fell in love with a similar crust when making our apple tart, and now it's a favorite for this strawberry delight. The filling is a sweet cream cheese infused with a hint of lemon, enhancing the burst of flavor from the strawberries. Get ready to enjoy this delightful treat all season long!
Servings: Makes 3 4-inch tartlets or 1 9-inch tart
Time: Takes 2 hours
Strawberry Tart
Ingredients
Crust:
3

tablespoons

butter

40g, at room temperature

1/3

cup

powdered sugar

1

egg

1/4

teaspoon

salt

1

cup

flour

slightly less than a full cup
Filling (Crème Patisserie):
1

egg

1/4

cup

sugar

1

tablespoon

cornstarch

1

tablespoon

flour

1

cup

milk

1/2

teaspoon

vanilla

3

tablespoons

unsalted butter

5-7

strawberries per tartlet
Instructions
For the crust, mix together butter and sugar until well combined. Whisk in the egg, then add flour and salt. Gently fold until a ball forms. Avoid overmixing. Cover and refrigerate for at least 30 minutes.

Preheat the oven to 325°F.

Roll out the crust into a thin sheet and shape it inside your tart pan(s). Prick with a fork and place in the freezer for 10 minutes.

Bake the tart shell(s) for about 15 minutes until they turn a light golden color.

For the crème patisserie, whisk together the egg and sugar until combined. Add cornflour and whisk. Heat the milk and vanilla in a pan until it begins to boil.

Pour a small amount of the hot milk mixture into the egg mixture, whisking as you go. Then slowly add the rest and whisk until combined. Transfer back to the pan and stir on low heat until the mixture thickens into a custard consistency. Add the butter and stir until combined. Place the cream into a piping bag and let it cool down.

Once everything has cooled, fill your tart shells with the crème patisserie (for a thick filling) and top with the strawberries (cut into quarters). Feel free to use any summer fruit you like!

Enjoy!