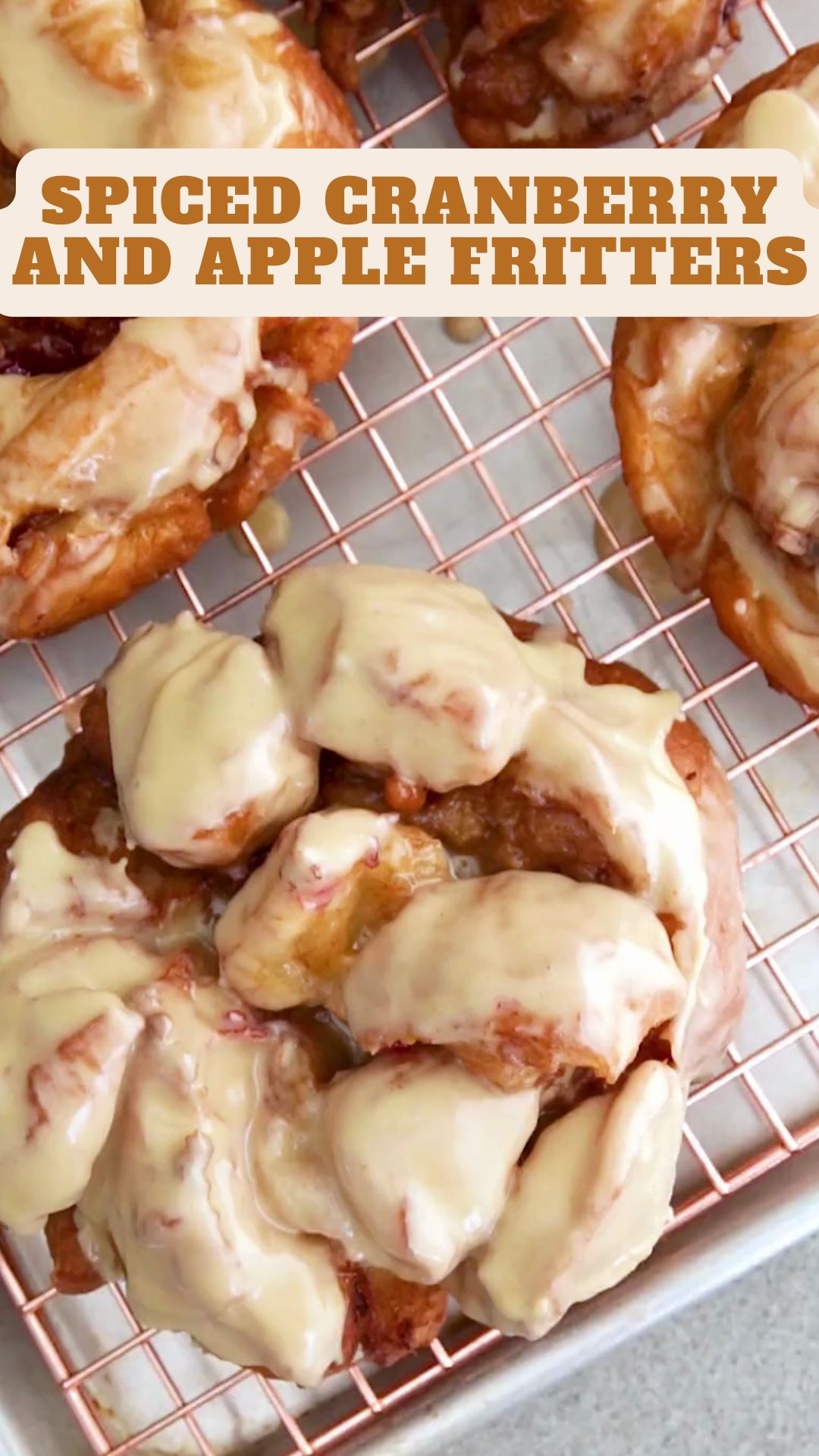 Ever tried making your own fritters? Well, now's the perfect time! This holiday season, let's whip up some delicious Spiced Apple and Cranberry Fritters using Red Star Yeast. It's a festive treat filled with warm holiday spices, and the best part? The whole family can join in on the fun!
Spiced Cranberry And Apple Fritters
Ingredients
For the Fritter Dough:
3/4

cup

warm whole milk

1/2

cup

warm apple cider

2

.75 ounce packages Red Star® Platinum Superior Baking Yeast®

3

tablespoons

divided brown sugar

3 1/2

cups

all-purpose flour

1

teaspoon

cinnamon

1/4

teaspoon

ground nutmeg

1

teaspoon

salt

1

teaspoon

lemon zest

1

egg

at room temperature

1/3

cup

softened unsalted butter

1/2

teaspoon

vanilla extract

Canola oil

for frying
For the Spiced Apples and Cranberries:
3

tablespoons

unsalted butter

3

medium granny smith apples

peeled and diced

1/4

cup

dark brown sugar

2

tablespoons

apple cider

1

cup

fresh cranberries

1 1/2

teaspoons

cinnamon

1/4

teaspoon

ground ginger

1/8

teaspoon

nutmeg

1

teaspoon

vanilla
For the Maple Cinnamon Glaze:
1 1/2

cups

powdered sugar

1/2

cup

pure maple syrup

1

teaspoon

vanilla bean paste

1/4

teaspoon

cinnamon
Instructions
Warm the milk and apple cider until just warm to the touch. Be careful not to make it too hot; around 110-115°F is perfect.

In a stand mixer, combine warm milk, 1 tablespoon of brown sugar, and yeast. Let it stand for 5-10 minutes until frothy.

In another bowl, whisk together flour, spices, and salt.

Add lemon zest, egg, softened butter, vanilla, and remaining brown sugar to the yeast mixture. Mix on low and gradually add dry ingredients.

Once all the flour is incorporated, mix on high for about 5 minutes until the dough is smooth and elastic.

Remove the dough, knead it, shape it into a ball, and let it rise in a warm place until doubled in size (about 30-45 minutes).

While the dough rises, prepare the apple mixture by caramelizing apples and adding cranberries. Cool in the fridge.

Roll the risen dough into a square, spread the cooled apple mixture on half, and fold the other half over. Seal the edges.

Cut the dough into strips, then at a 45º angle to create a crisscross pattern.

Shape the pieces into a log, cut into 8-10 pieces, and let them rise for an additional 20 minutes.

Heat canola oil to 350˚F in a pot. Fry the fritters until golden-brown (1-2 minutes per side). Drain on a rack.

Whisk together the glaze ingredients and coat the warm fritters. Let the glaze set for 10 minutes. Enjoy your homemade holiday fritters!