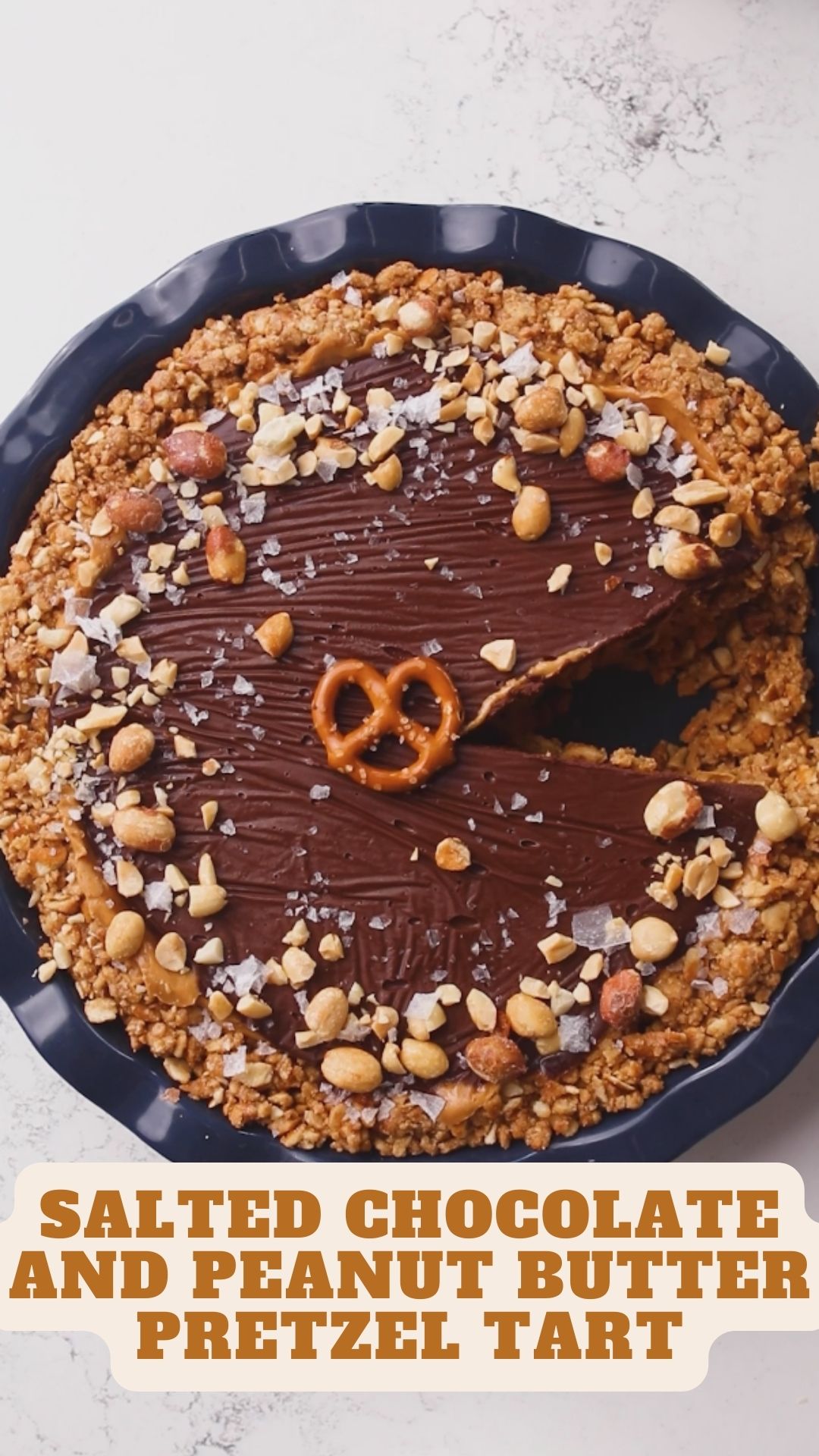 Indulge in the delightful pairing of chocolate and peanut butter with this easy-to-make Chocolate-Peanut Butter Pretzel Tart.
Salted Chocolate And Peanut Butter Pretzel Tart
Ingredients
3

cups

of peanut butter pretzels

6

tablespoons

of softened unsalted butter

1/2

cup

of creamy peanut butter

2

cups

of chopped dark chocolate

1

cup

of heavy cream

1

tablespoon

of honey

1/2

teaspoon

of kosher salt

Flaky sea salt

for garnish

Chopped roasted peanuts

for garnish
Instructions
In a food processor, blend 3 cups of peanut butter pretzels with 6 tablespoons of softened unsalted butter until you get fine crumbs resembling wet sand. Press this mixture evenly into the bottom and up the sides of an 8-inch tart pan. Spread a layer of creamy peanut butter on top and then place it in the freezer as you move on to the next step.

In a medium saucepan, combine 2 cups of chopped dark chocolate and 1 cup of heavy cream over medium heat. Stir constantly until the chocolate completely melts, creating a smooth ganache. This takes about 4 minutes. Pour the ganache over the peanut butter layer and return the tart to the freezer to set for 45 minutes.

Once set, garnish your creation with flaky sea salt and chopped roasted peanuts. Then, simply slice and serve this decadent Chocolate-Peanut Butter Pretzel Tart to enjoy the perfect blend of sweet and salty flavors!