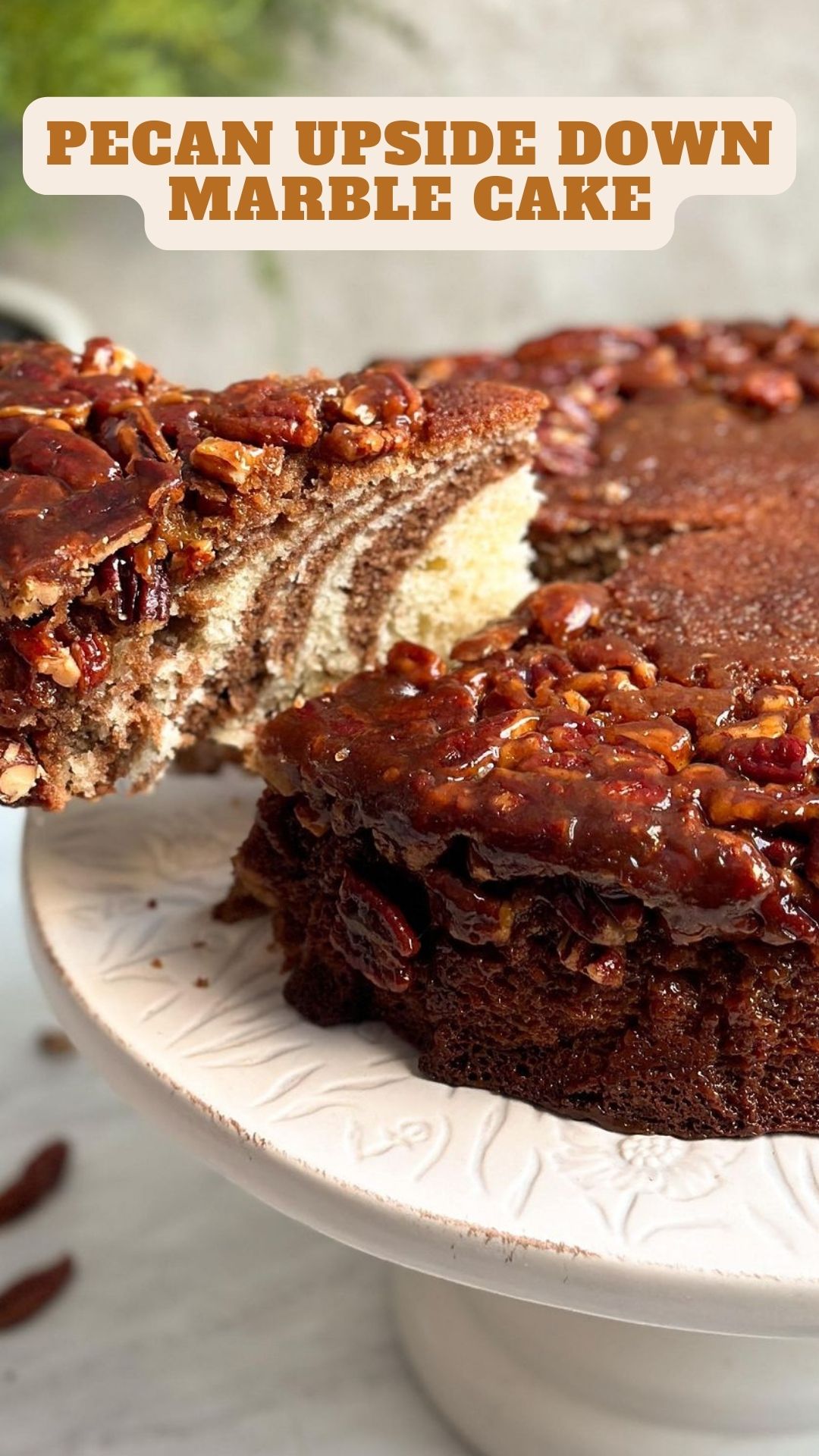 Move over, Pecan Pie! There's a new dessert in town, and it's about to take your taste buds on a nutty adventure. Say hello to the Pecan Upside Down Marble Cake – a soft and tender treat topped with a caramelized, crunchy pecan goodness that'll have you coming back for more.
Let's dive into the deliciousness with ingredients you probably already have in your kitchen:
Pecan Upside Down Marble Cake
Ingredients
**Caramel Pecan Topping:**
1 ¼

cups

of pecan pieces and halves

toasted for 5 minutes at 350°F

3

tablespoons

of corn syrup or honey

½

cup

firmly packed brown sugar

about 110g

½

cup

unsalted butter

113g

¼

teaspoon

ground cinnamon

¼

teaspoon

salt
**Marble Cake Batter:**
1

cup

sugar

about 220g

⅓

cup

melted butter

75g

¼

cup

oil

50g

2

eggs + 1 egg white

1

teaspoon

vanilla

1 ¾

cups

cake flour

about 225g, or use 200g all-purpose flour and 25g cornstarch

½

teaspoon

salt

1 ¼

teaspoons

baking powder

¼

teaspoon

baking soda

¾

cup

sour cream

180g

2

tablespoons

cocoa powder
Instructions
**For the Pecan Topping:**
Preheat your oven to 350°F and prepare a 9″ cake pan with parchment paper and butter.

Mix butter, corn syrup, brown sugar, salt, and cinnamon in a saucepan. Cook on low heat until smooth.

Remove from heat, add toasted pecans, and mix. Pour into the prepared pan, spread evenly, and place in the freezer.
**For the Cake Batter:**
Whisk sugar, melted butter, oil, and vanilla in a bowl for 2 minutes. Add eggs and whisk for another 1-2 minutes.

Sift in all dry ingredients (except cocoa powder) and fold until combined.

Gently fold in sour cream until a light cake batter forms. Avoid over-mixing.
**Assembly:**
Divide the cake batter into 2 bowls. Sift cocoa powder into one half and fold until combined.

Remove the pan from the freezer. Spoon alternating scoops of vanilla and chocolate batter into the pan. Don't shake; handle gently.

Leave as is for zebra stripes or use a skewer for a marbled effect. Avoid stirring the pecan filling.
**Bake:**
Bake the cake for 30 minutes at 350°F, followed by ~15 minutes at 330°F. Ensure it's fully baked by inserting a toothpick in the middle.

Let the cake cool in the pan for 20-30 minutes to allow the pecan topping to set. Carefully flip it onto a serving stand.
**Serve and Enjoy!**
Indulge in the irresistible flavors of this Pecan Upside Down Marble Cake. Your taste buds are in for a treat!