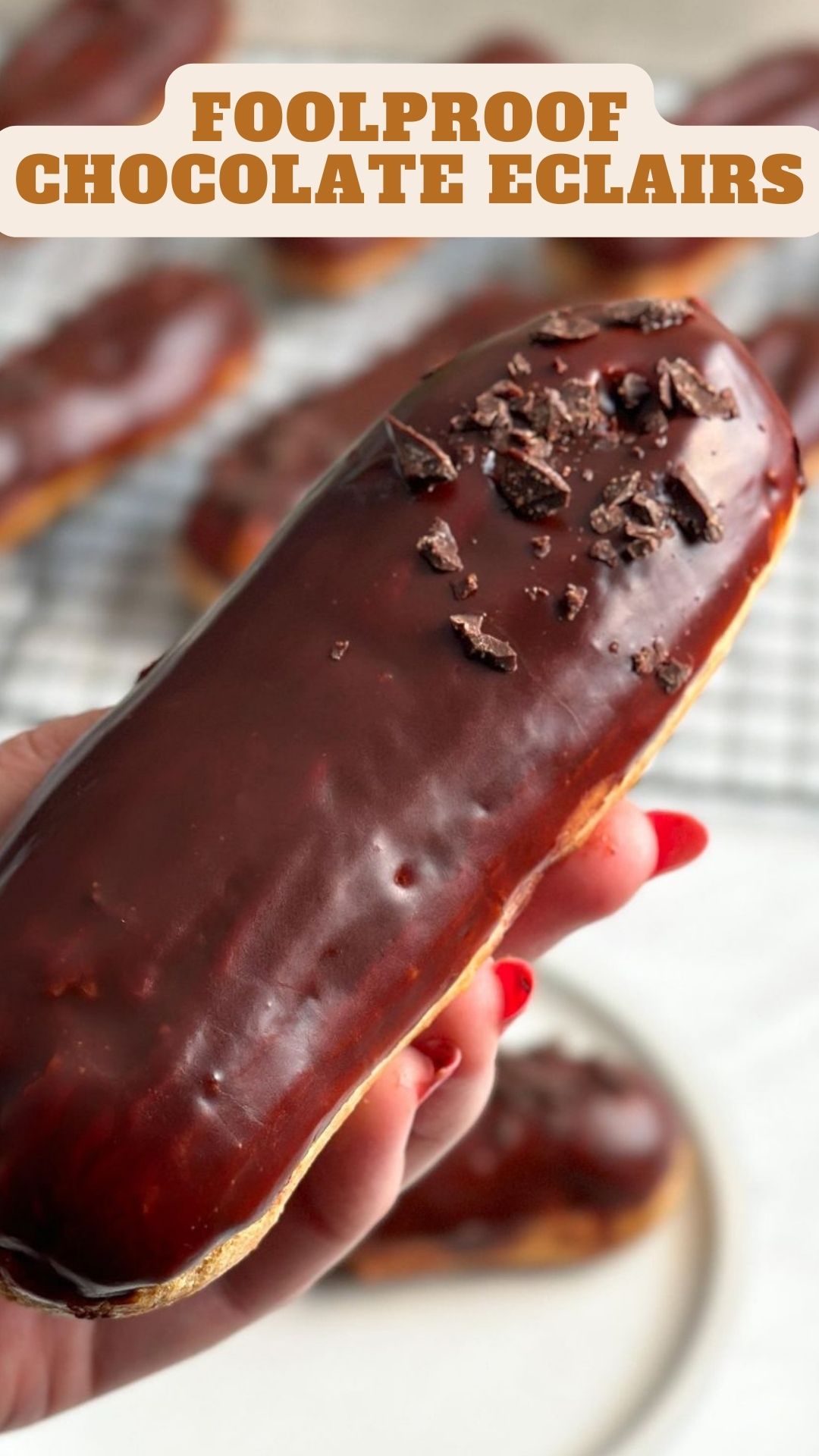 Experience the delight of perfect chocolate eclairs with a delicate and crispy choux pastry shell, a luscious chocolate creme patisserie, and a glossy chocolate glaze that brings it all together.
Foolproof Chocolate Eclairs
Ingredients
**Eclairs:**
1/2

cup

water

120g

1/4

cup

milk

60g

6

tbsp

unsalted butter

85g

2

tsp

sugar

1/2

teaspoon

salt

3/4

cup

bread flour

100g

3

large eggs

cold

1

egg yolk + 1 tbsp milk for egg wash
**Chocolate creme patisserie:**
1 1/2

cup

milk

360g

1/2

cup

cream

120g

4

egg yolks

1/3

cup

sugar

75g

1

tbsp

cornstarch

150

g

semi-sweet chocolate
**Chocolate glaze:**
100

g

bittersweet or dark chocolate

100

g

unsalted butter
Instructions
**Eclairs:**
Preheat the oven to 400F and line 2 baking sheets with silicon baking mats.

In a nonstick saucepan, combine butter, water, milk, sugar, and salt. Stir over medium-low heat until sugar dissolves, butter melts, and the mix boils.

Remove from heat and add sifted flour. Stir vigorously until a smooth ball forms. Place back on heat and stir until the mixture dries out and forms a thin film.

Let it cool for 5-10 minutes. Whisk eggs separately and add slowly to the dough using an electric beater until a thick batter forms.

Transfer batter to a piping bag with a 1/2″ french star tip. Pipe 5″ eclairs on baking sheets, then brush with egg wash.

Bake for 10 minutes at 400F, then reduce temperature to 330F and bake for another 30 minutes. In the last 5 minutes, make 3 holes on the bottom of each éclair.

Eclairs should be golden brown and crispy. Remove from the oven.
**Chocolate creme patisserie:**
Mix milk and cream in a nonstick saucepan and bring to a boil. In a separate bowl, combine egg yolks, sugar, and cornstarch.

Pour 1/3 of the milk mixture into the egg mixture while whisking, then pour back into the saucepan while continuing to whisk.

Place on low heat and stir continuously until a thick custard consistency is reached. Remove from heat.

Pour the mixture over chopped chocolate in a heatproof bowl, cover for 5 minutes, then mix until smooth. Cool in the fridge and transfer to a piping bag with a Bismarck piping tip.
**Assembly:**
Fill each éclair with the chocolate creme patisserie.

Place upside down on a wire rack and transfer to the fridge.

Make the chocolate glaze by melting chocolate and butter over a double boiler. Let cool for 5-10 minutes.

Dip the top of each éclair in the chocolate glaze, shake off excess, and clean edges. Place on a wire rack to set.

Serve and enjoy!
Notes
Eclairs are best enjoyed within a day, as they may become soft and soggy over time.