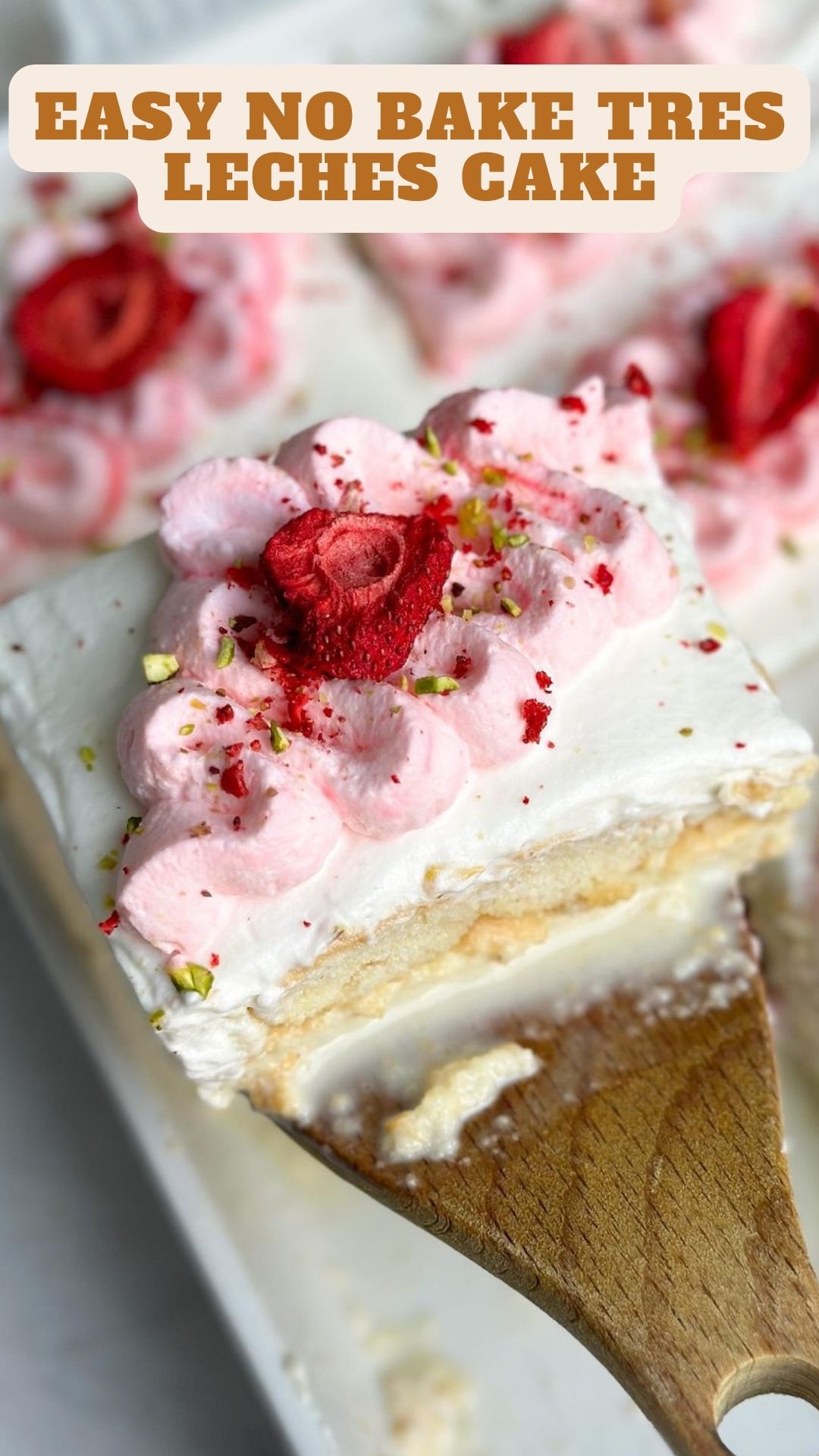 Indulge in the magic of my No Bake Ras Malai Tres Leches Cake – a dessert that's not just incredible but also a breeze to whip up! You only need 5 ingredients and 20 minutes of effort. Plus, you can adjust the quantity easily based on the size of your gathering.
Join the ranks of hundreds who have tried and fallen in love with this recipe, and why not make yourself the next fan?
Create the most delightful Rus Malai-flavored Tres Leches cake without breaking a sweat. Just gather 5 simple ingredients and invest less than 30 minutes of your time!
Easy No Bake Tres Leches Cake
Ingredients
300

g

sweetened condensed milk

approximately ¾ of a 14 oz can

400

g

evaporated milk

equivalent to 1 14 oz can

60

g

heavy cream

¼ cup, or use milk for a lighter cake

¼

tsp

cardamom powder

start with ⅛ tsp, taste, and adjust*

35-40

ladyfingers

about 1.5 packs with 24 ladyfingers each

1.5

cups

heavy cream for decoration

Optional: freeze-dried strawberries and pistachios for decoration
Instructions
Whisk evaporated milk, sweetened condensed milk, and heavy cream in a bowl to create the three-milk mixture. Add a small amount of cardamom powder (if using) and adjust the flavor to your liking.

In a clean dish (7×11″ used here), tightly stack ladyfingers to form one layer. Trim ladyfingers to fill any gaps.

Use a ¼ cup measure to drench the ladyfingers with half of the milk mixture. Don't worry about it looking like a lot; the ladyfingers will absorb the milk.

Wait 10-20 minutes for the ladyfingers to soak up most of the milk mixture.

Repeat with a second layer of ladyfingers.

Place the dish in the fridge for approximately 2 hours.

Whip up heavy cream to stiff peaks.

Spread half of the heavy cream on top of the ladyfingers, using an offset spatula to even it out.

In the other half of the cream, add food color if desired. Transfer to a piping bag and decorate as you please.

Add crushed freeze-dried strawberries and chopped pistachios for the finishing touch.

Serve and savor!
Notes
Cardamom adds a Rus Malai flavor, but you can use cinnamon or vanilla essence if you prefer.
The number of ladyfingers depends on your pan size; aim for 35-40 for the right milk-to-ladyfinger ratio.