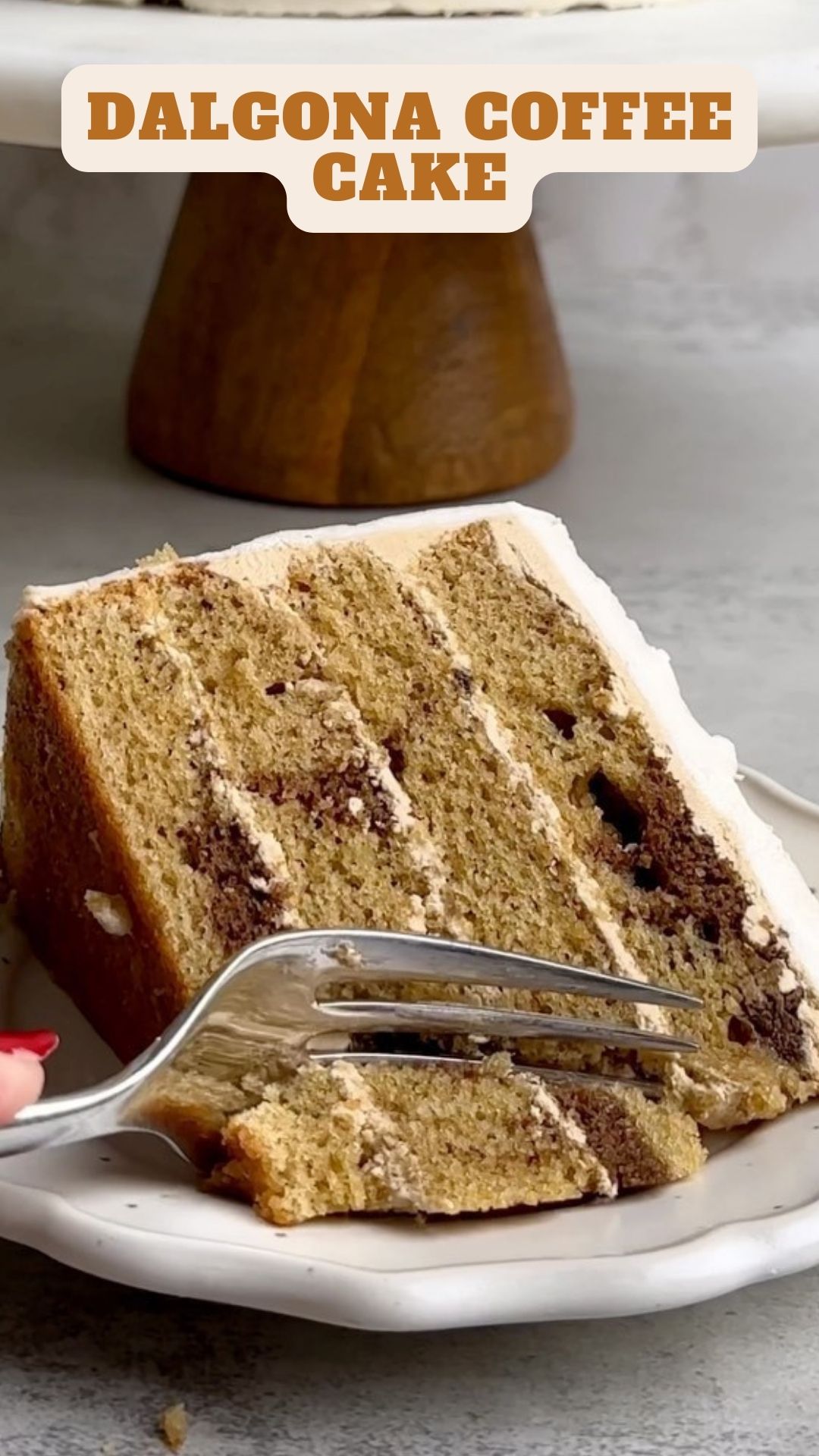 Hey there! Ready to dive into this awesome recipe? If you're a coffee enthusiast, this cake is a game-changer!
Dalgona Coffee Cake
Ingredients
Cake:
2 1/2

cups

of all-purpose flour

about 325g

1 1/4

cups

of sugar

around 275g

2 1/4

teaspoons

of baking powder

1/4

teaspoon

of baking soda

2/3

teaspoon

of salt

2

eggs

2/3

cup

of vegetable oil

approximately 120g

3/4

cup

of buttermilk

create it by mixing 3/4 cup of milk with 1.5 teaspoons of vinegar – about 180g

2

teaspoons

of instant coffee

1/4

cup

of boiling water

roughly 60g

2

tablespoons

of cocoa powder
Dalgona buttercream:
1 to 1.5

tablespoons

of instant coffee

start with 1, taste, and adjust

1

cup

of icing sugar

about 125g

1.5

tablespoons

of hot water

1

cup

of butter

softened to room temperature, which is around 227g

1.5

cups

of icing sugar

approximately 250g
Instructions
Preheat your oven to 350°F and get those 2 pans (9″) prepped with parchment and butter.

In a big bowl, mix together flour, sugar, baking powder, baking soda, and salt.

Add eggs, oil, and buttermilk, and whisk until just combined.

Time for the magic touch – mix instant coffee with hot water and pour it into the batter. Give it a good stir.

Pour 1/3 of the batter into another bowl. Sift in the cocoa powder and gently fold it in.

Divide the original batter equally into the two pans. Spoon on the cocoa-flavored batter, then use a toothpick to create a cool marbled effect.

Bake for 25-28 minutes or until a toothpick comes out with moist crumbs. Let those beauties cool.

Time for the buttercream:

Whisk coffee, sugar, and water until they form a light-colored, thick mixture (we call it dalgona).

In another bowl, whisk butter and 1.5 cups of icing sugar until light and airy. Add the dalgona mix and keep whisking until you've got a smooth buttercream. Taste and tweak as needed.

Let's assemble the masterpiece:

Once the cakes are cool, trim off the domes and cut each into two layers.

Layer them up on a cake stand with that delicious buttercream. Coat the top and edges generously.

Pop it in the fridge for an hour, then get ready to indulge! Enjoy!