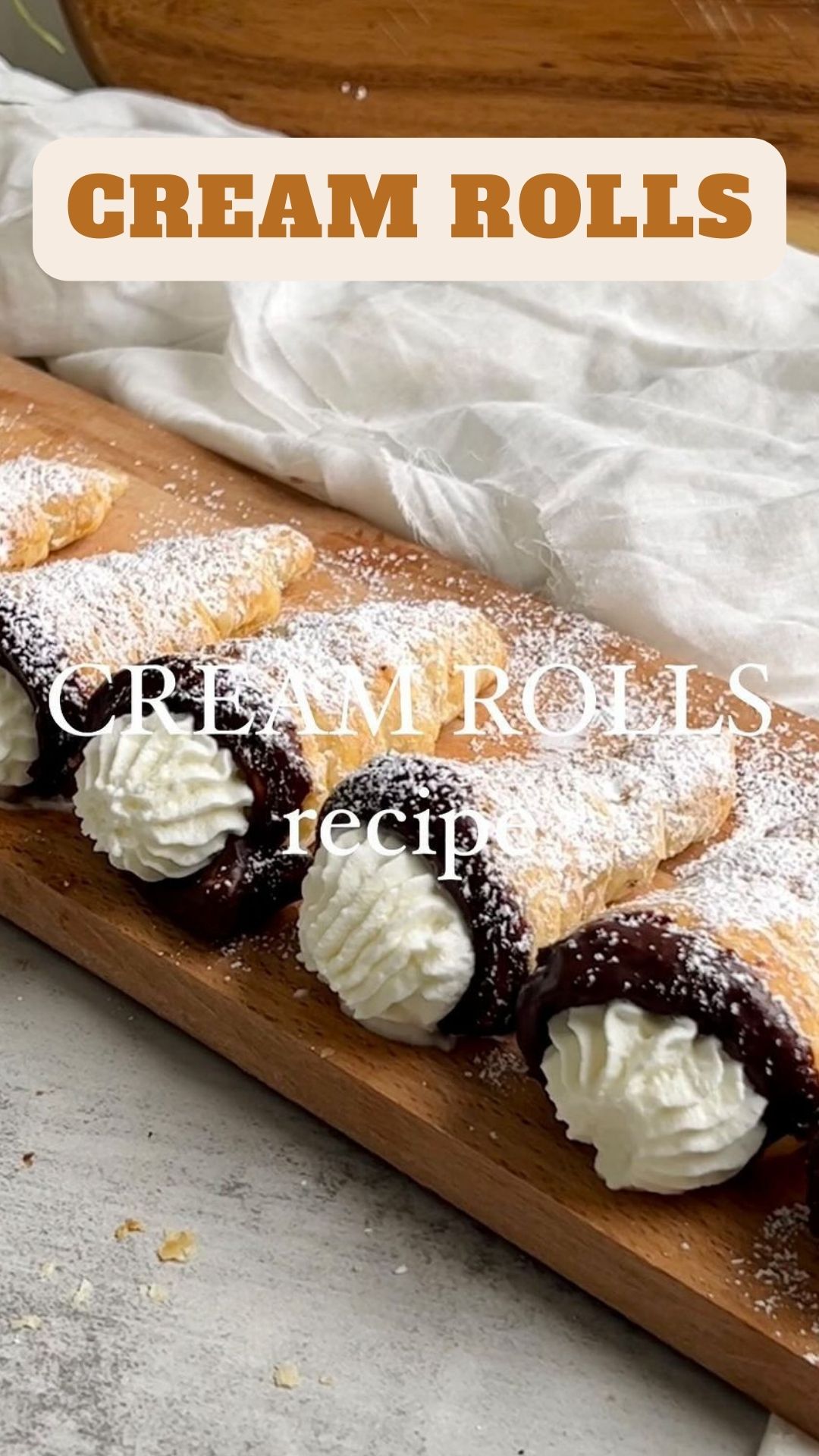 Indulge in the perfect treat for satisfying your sweet tooth during those scorching summer days – Cream Horns or Cream Rolls! And guess what? They're incredibly easy to whip up, almost as easy as polishing them off all by yourself (guilty pleasures, anyone? 😂).
Cream Rolls
Ingredients
1

chilled puff pastry sheet

10×10 inches

3/4

cup

of heavy whipping cream

2-3

tbsp

of icing sugar

adjust to your liking

1/4

tsp

of vanilla extract

75

g

of dark or semi-sweet chocolate

2

tbsp

of vegetable oil

Icing sugar for dusting
Instructions
Preheat your oven to 400°F and line two baking sheets with parchment paper.

Lightly brush melted butter on 8 molds for 4-inch cream horns (cones).

Place the chilled puff pastry on a cool surface and cut it into 8 strips, each about 1.25 inches thick.

Working with one strip at a time, gently roll it around the mold, starting from the pointed end. Stretch the strip slightly as you roll, ensuring it overlaps to seal the roll well. Press the tip with your fingers, use a little milk to seal the other end, and place it on the baking sheet seam side down.

Repeat for the remaining strips, keeping them in the fridge if needed to prevent the pastry from melting.

Bake for 15-18 minutes until the puff pastry is cooked and light golden. Let them cool at room temperature for 15 minutes.

While they cool, whip the cream with icing sugar and vanilla extract until stiff peaks form. Transfer to a piping bag with your preferred tip.

Melt the chocolate in the microwave in 20-second increments, then mix in the oil.

Once the pastry cones are cooled, gently remove them from the molds. Dip the end of each roll into the chocolate glaze, scrape off excess, and let them rest for 15 minutes.

Finally, generously fill each roll with the whipped cream, dust with icing sugar, and voila! These treats are at their best when enjoyed on the same day.
So, what are you waiting for? Dive into the kitchen and create these delightful Cream Horns – your taste buds will thank you!