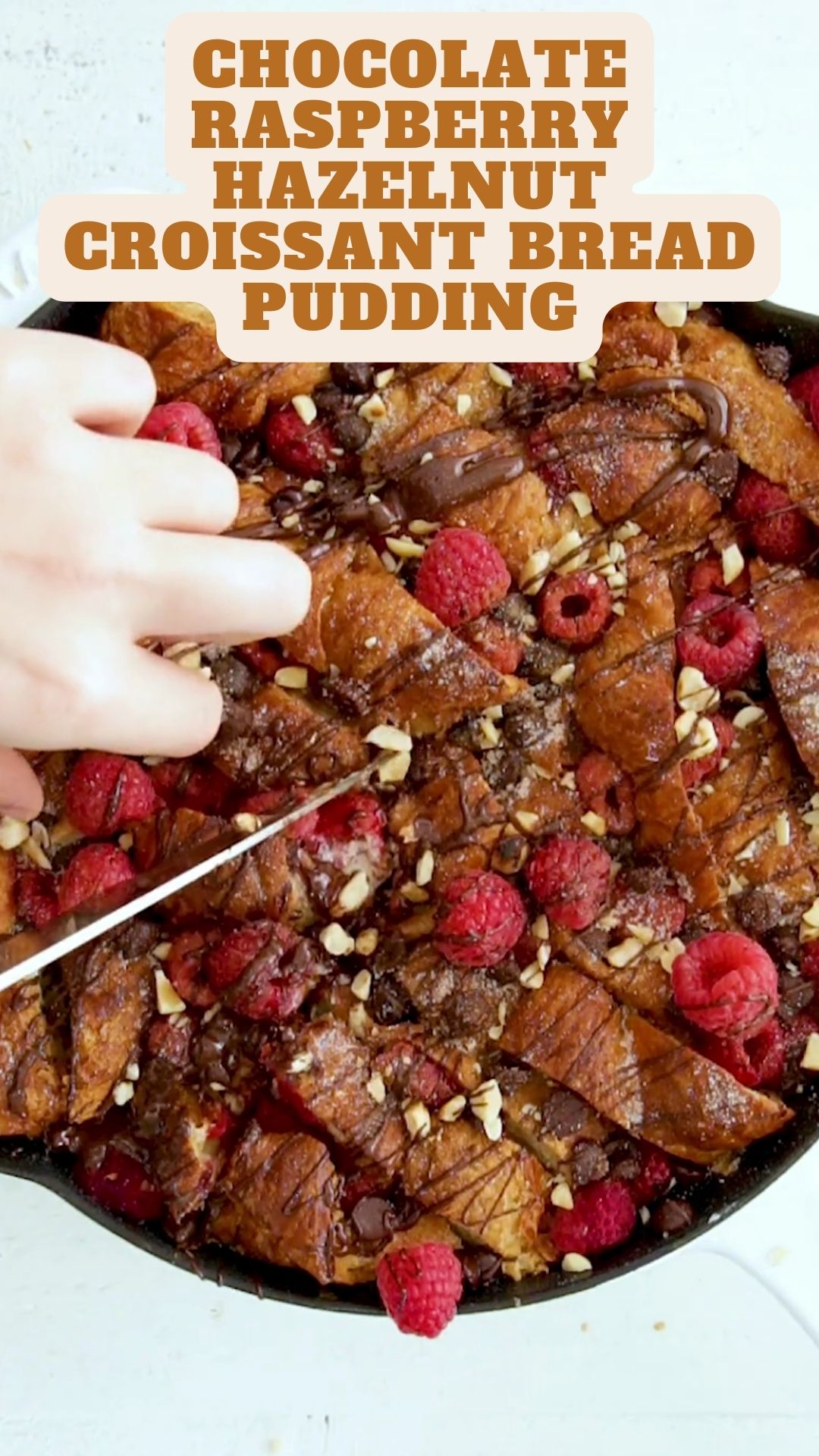 Get ready for a breakfast delight that's not only delicious but also easy to prep in advance – our delightful make-ahead brunch recipe steals the show! Imagine a mouthwatering Bread Pudding filled with juicy Driscoll's Raspberries, decadent Dark Chocolate, and luscious Croissants, all bound together with a heavenly cinnamon-infused custard. The best part? You can whip it up in under 15 minutes and bake it the next day just before your guests walk in.
Chocolate Raspberry Hazelnut Croissant Bread Pudding
Ingredients
For the Bread Pudding:
5

croissants

around 14 oz total, sliced into 1-inch slices

1

tablespoon

butter

4

large eggs

2

tablespoons

granulated sugar

2

tablespoons

brown sugar

1

teaspoon

cinnamon

A pinch of nutmeg

1/2

teaspoon

salt

1

cup

whole milk

1

cup

heavy cream

2

tablespoons

bourbon

optional

1

tablespoon

pure vanilla extract

1

6-oz. container Driscoll's Organic Raspberries, plus more for serving

1

cup

6 ounces dark chocolate chips

1/4

cup

toasted hazelnuts

chopped
For the Cinnamon Sugar:
1

tablespoon

granulated sugar

1/2

teaspoon

cinnamon
Instructions
Grease a 9-inch coated cast-iron skillet with butter. Arrange the sliced croissants in the skillet, overlapping them.

In a medium bowl, whisk together eggs, granulated sugar, brown sugar, cinnamon, nutmeg, and salt. Once well combined, add milk, heavy cream, bourbon (if using), and vanilla extract. Whisk until well blended.

Pour the custard mixture over the croissants, then tuck raspberries and chocolate between each slice.

Cover with foil and refrigerate overnight or for at least 6 hours.

When ready to bake, preheat the oven to 350˚F. Create the cinnamon sugar topping by mixing sugar and cinnamon in a small bowl. Sprinkle it over the croissants, cover with foil, and bake for 30 minutes. Uncover and bake for an additional 30 minutes or until the center is set.

Let it cool for about 30 minutes, then sprinkle toasted hazelnuts and more fresh raspberries on top before serving.