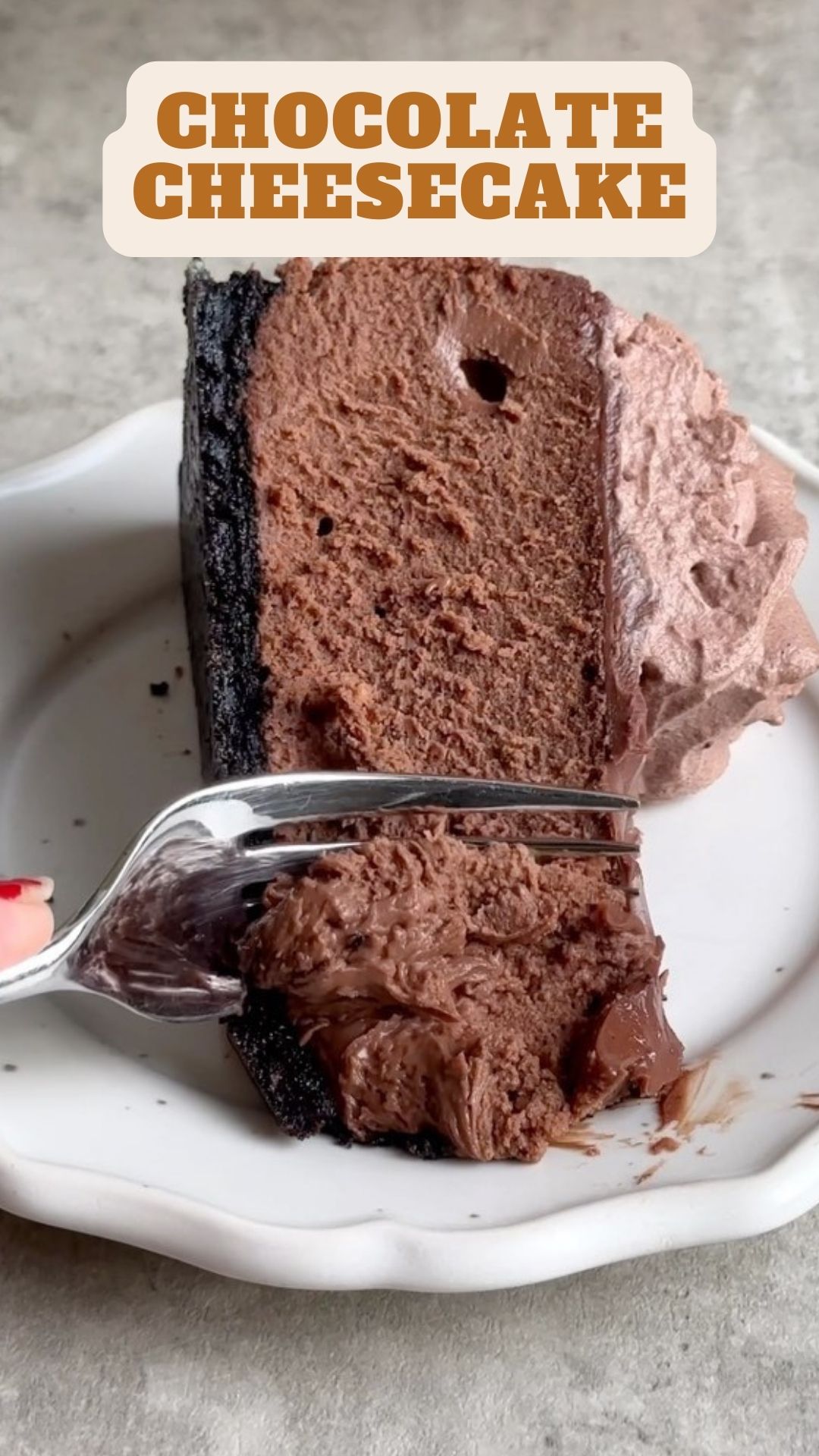 Indulge in the Chocolate Cheesecake of your dreams! Imagine a dessert that's rich, creamy, and perfectly balanced with delightful chocolate and cream cheese flavors.
My special taste testers, who've tried most of my baked creations, couldn't stop raving about this one – they say it's one of the best things I've ever made! So, make sure you don't miss out on this heavenly treat.
Chocolate Cheesecake
Ingredients
*Crust:*
About 20 Oreo cookies

approximately 235g; you can also use another brand of chocolate sandwich biscuits

Slightly over ¼ cup

70g melted unsalted butter
*Chocolate cheesecake:*
About 2 cups of semi-sweet chocolate chips

340g

½

cup

120ml heavy cream

1

tsp

instant coffee/espresso powder

3

packs

24oz or 680g cream cheese, at room temperature

½

tsp

salt

1

cup

220g granulated sugar

About 2 tbsp

15g cocoa powder

1

tsp

vanilla

4

large eggs

at room temperature

¼

cup

60g sour cream, at room temperature
*Chocolate ganache:*
About ⅔ cup of semi-sweet chocolate chips or chocolate of choice

100g

120

ml

½ cup heavy cream
*Chocolate whipped cream frosting:*
1

cup

240ml chilled heavy cream

¼

cup

55g granulated sugar

About 3 tbsp

25g cocoa powder
Instructions
*Oreo crust:*
Preheat the oven to 350F (conventional). Lightly brush a 9″ springform pan with butter on the bottom and sides. Wrap the outside of the pan tightly with 2-3 sheets of aluminum foil.

Grind Oreo cookies in a food processor until fine crumbs. Add melted butter and grind again. Transfer to the pan and press down firmly to create a tight crust.

Bake the crust for 8-10 minutes. Remove from the oven and reduce the temperature to 325F.
*Chocolate cheesecake:*
In a heat-proof bowl, mix semi-sweet chocolate, heavy cream, and coffee. Heat and stir over a double boiler until melted and smooth. Set aside to cool.

In a stand mixer, beat cream cheese until creamy and fluffy (3-4 minutes). Add sugar, cocoa powder, salt, and vanilla. Mix for 3-5 minutes, scraping the bowl.

Whisk eggs separately and add to the batter. Mix briefly. Add cooled ganache and sour cream; whip until combined.

Transfer batter to the pan with the crust. Tap the pan to remove air bubbles.

Create a water bath by placing the cheesecake pan in a larger pan with boiling water. Bake for 60-70 minutes.

Cool at room temperature for 2-3 hours, then refrigerate overnight (at least 8 hours).
*Chocolate ganache:*
Prepare ganache by boiling cream and pouring it over chocolate. Rest for 5 minutes, then mix until silky.
*Chocolate whipped cream:*
Whisk all ingredients until the cream reaches stiff peaks. Avoid overmixing.
*Decoration / Assembly:*
Remove the cheesecake from the pan and transfer to a serving stand.

Pour slightly thickened ganache over the top and spread carefully.

Pipe rosettes around the edge with chocolate whipped cream.

Serve and savor the deliciousness!
Notes
This cheesecake stays fresh in an airtight container in the fridge for up to a week!