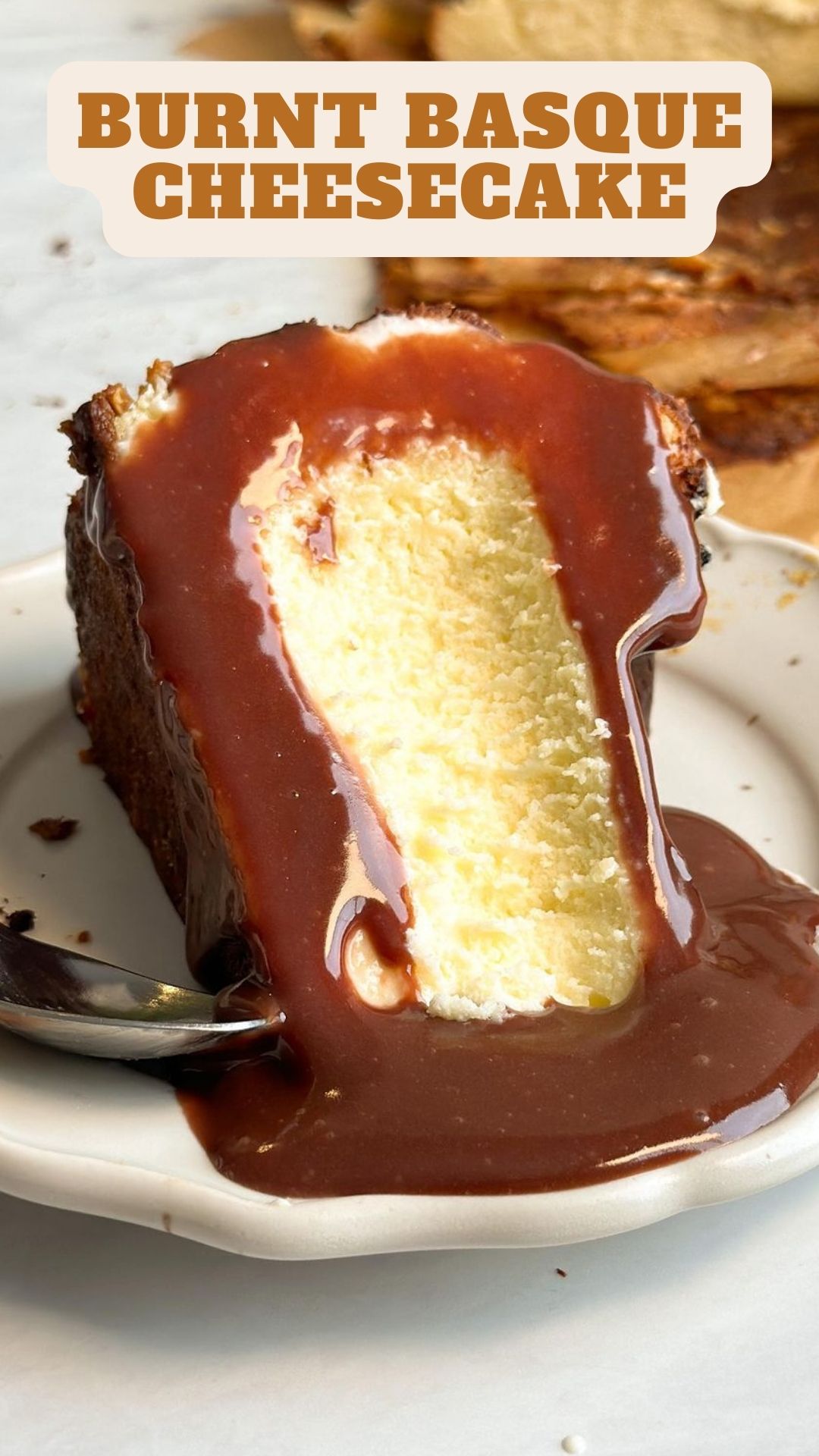 Introducing the amazing Basque cheesecake with its irresistibly creamy interior and a delightful caramelized crust – just the way it's meant to be!
Burnt Basque Cheesecake
Ingredients
32

ounces

of Philadelphia cream cheese

that's 4 blocks of 8 ounces each, or 905 grams

6

large eggs

1

and 1/3 cups of granulated sugar

about 290 grams

2

and 1/2 tablespoons of cornstarch

22 grams

1

and 1/2 cups of heavy cream

360 grams

1/2

teaspoon

of salt

1

teaspoon

of vanilla bean paste
And for the optional chocolate ganache (enough for one large slice):
20

grams

of milk or semi-sweet chocolate

20

grams

of heavy cream
Instructions
Bring all your ingredients to room temperature by taking them out of the fridge at least an hour before you start.

Preheat the oven to 410°F (conventional, bottom heating).

Prepare an 8×3″ cake pan: butter the bottom and line it with at least 2 large parchment sheets. Make sure to let the parchment paper rise above the edge of the cake pan in all directions to contain the rising cheesecake.

In a stand mixer, cream the cream cheese for 2-3 minutes until it's creamy. Scrape the edges and bottom of the bowl to make sure there are no lumps.

Add the sugar and mix for another 2-3 minutes until the sugar dissolves. Scrape the bowl and mix for another 30 seconds.

Break the eggs into a separate bowl. Add the eggs one at a time while mixing at medium speed until each egg is incorporated. Don't overmix.

Add the heavy cream, vanilla, and salt, and mix for 30 seconds.

Sift in the cornstarch and mix for 30-60 seconds until all the ingredients are incorporated.

Pour the batter into the prepared cake pan. Tap it on the counter a few times to make sure the batter flows into all the creases of the parchment paper.

Place the pan in the middle rack of the preheated oven and bake for about 55 minutes (check for doneness around 50 minutes). In the last 3-4 minutes, turn on the broiler to give the top of the cheesecake a deep golden crust. If you prefer a fully set cheesecake, bake for 60 minutes.

Remove from the oven – the cheesecake will be quite wobbly. Let it rest at room temperature for just 5 minutes, then transfer it to the fridge immediately.

Allow the cheesecake to cool overnight in the fridge. Serve it cold straight from the fridge.
If you're feeling fancy with chocolate ganache:
Prepare the ganache by pouring hot cream over the chopped chocolate, waiting 5 minutes, and mixing until a shiny ganache is formed.

Pour it over the cheesecake slice while still warm. Enjoy!