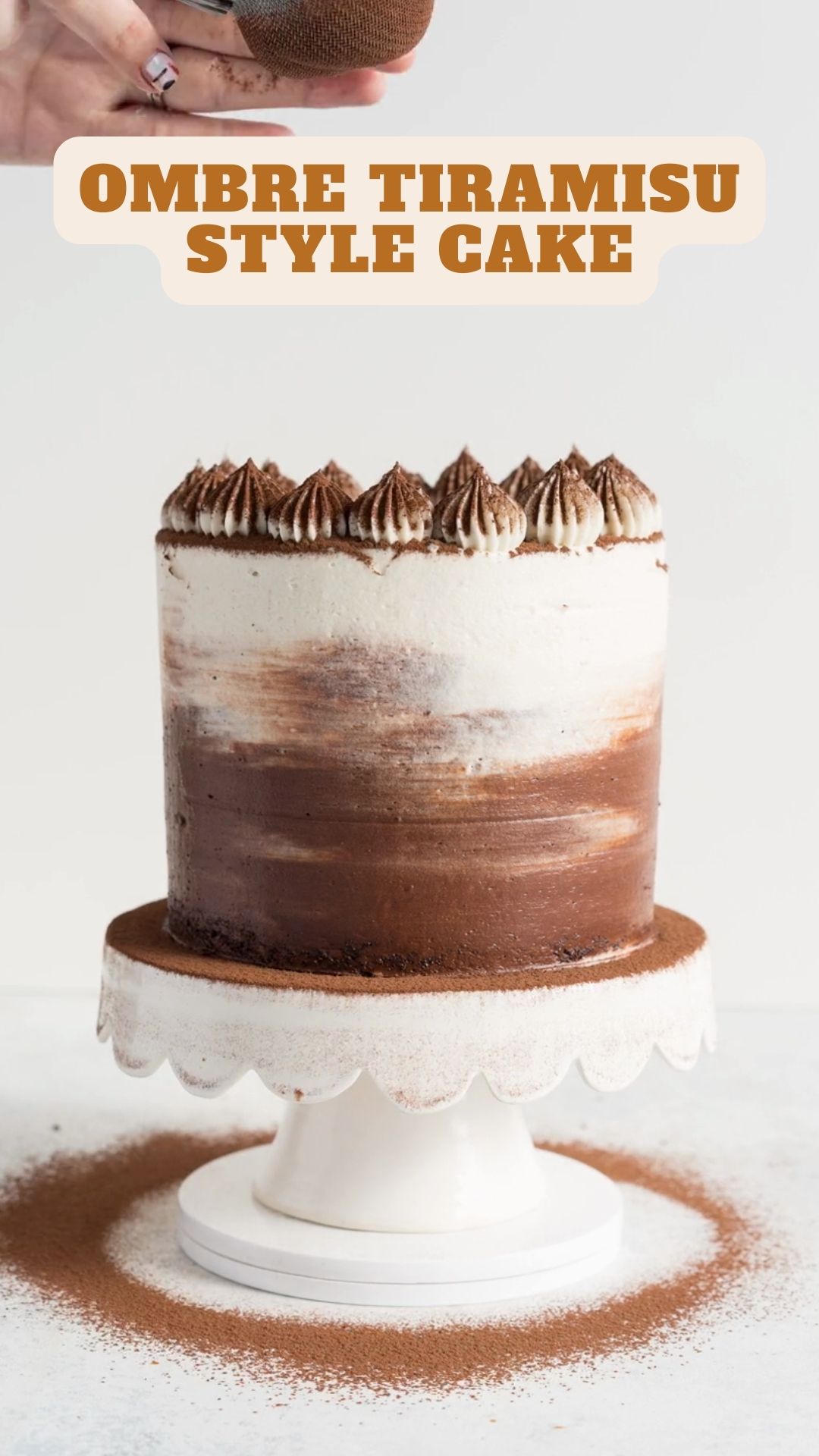 We got creative with the classic tiramisu and transformed it into a fantastic layer cake using the Grain-Free, Gluten-Free, Soy-Free, and Non-GMO baking mixes and frostings from Simple Mills.
Ombre Tiramisu Style Cake
Ingredients
For the cakes:
1

box Simple Mills Chocolate Cake Mix

and the extra ingredients listed on the box

1

box Simple Mills Vanilla Cake Mix

and the extra ingredients listed on the box
For the filling:
1

cup

cold heavy cream

1/2

cup

powdered sugar

1

tsp

vanilla bean paste

1 8

oz

container cold mascarpone cheese
For the coffee soak:
1/4

cup

60ml strongly brewed espresso
To finish:
2

containers Simple Mills Chocolate Frosting

2

containers Simple Mills Vanilla Frosting

Cocoa powder for dusting
Instructions
Make the cakes:
Preheat the oven to 350˚F.

Grease and line two 6-inch cake tins.

Prepare the Chocolate mix according to the box instructions.

Divide the batter evenly between the pans using a scale.

Bake for 20 minutes or until a skewer comes out clean.

Cool in the tins for 10 minutes, then transfer to a wire rack to cool completely.

Repeat the process with the Vanilla mix and cool completely.

Level off the cakes to have flat tops.
Filling:
In a stand mixer or with an electric mixer, whip together the cream, powdered sugar, and vanilla until soft peaks form.

Add the mascarpone and whip until stiff peaks form.

Transfer to a bowl.
Assembly:
Place chocolate frosting in a stand mixer and whip until silky and smooth.

Transfer a portion to a piping bag fitted with a round tip; the rest goes in a bowl.

Repeat the whipping process with the vanilla frosting.

Pipe a 'dam' of chocolate frosting around the outside of a chocolate layer.

Fill the dam with mascarpone frosting and smooth with an offset spatula.

Top with a vanilla layer, repeat the process.

Finish with a chocolate layer and a vanilla layer on top.
Final Touches:
Spread chocolate frosting around the bottom half of the cake and vanilla frosting over the top.

Blend the two frostings where they meet.

Smooth the sides with an icing scraper, patching up any holes.

Smooth the top edge with an offset spatula.

Pipe a ring of vanilla frosting blobs around the top using a French star tip.

Top it off with a light dusting of cocoa, if you like.