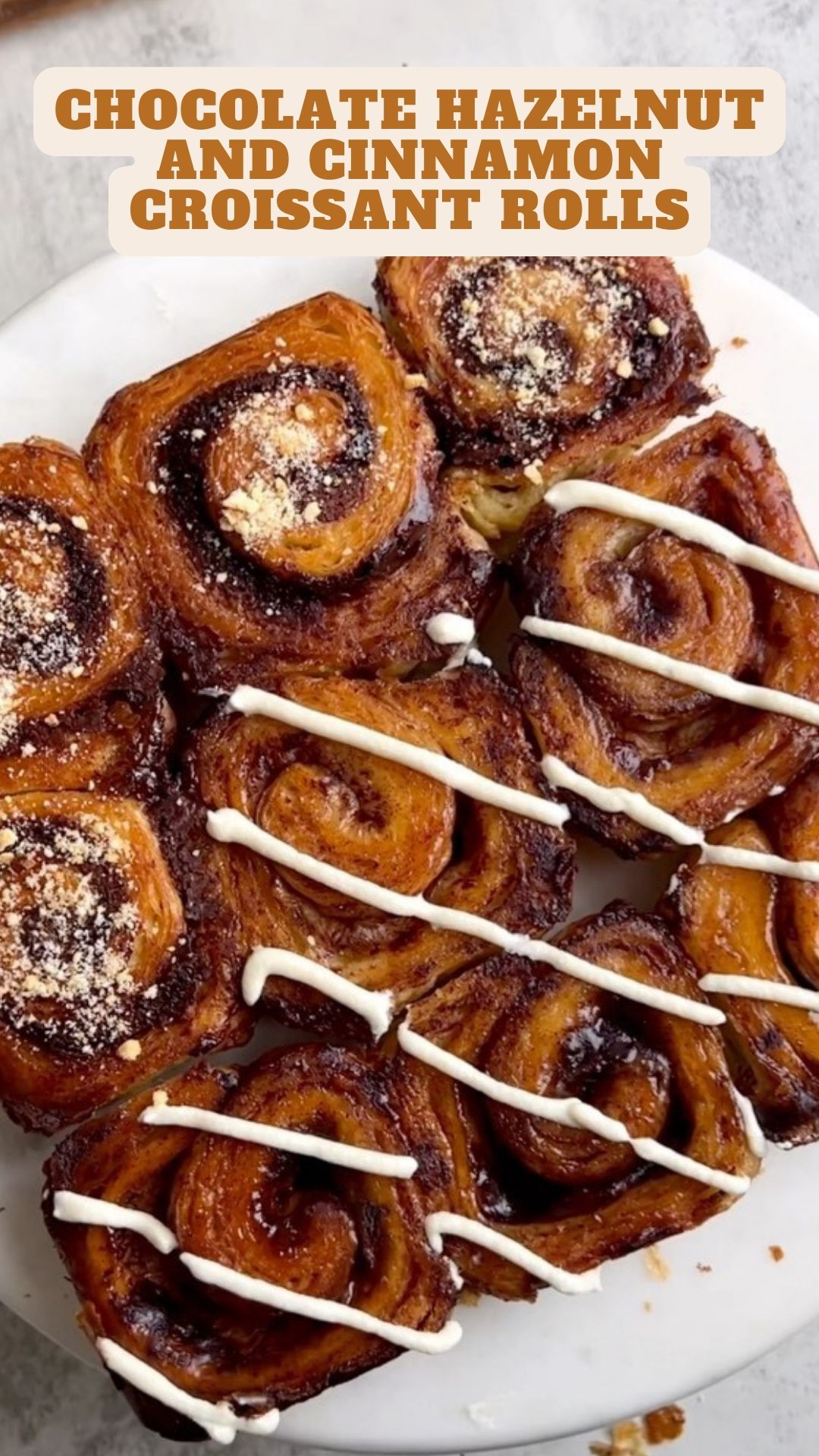 Get ready for a delicious treat inspired by @bunsfromhome in London! These rolls are so tasty, they might just give your usual cinnamon rolls a run for their money.
Chocolate Hazelnut and Cinnamon Croissant Rolls
Ingredients
A prepared croissant dough sheet

9×16 inches (about 0.4-0.5mm thick), equivalent to 250g of flour in the recipe

1

egg + 1 tbsp milk for an egg wash
For the Cinnamon Rolls:
2

tbsp

unsalted butter

softened

1/4

cup

light brown sugar

2

tsp

cinnamon

1/4

tsp

salt

Frosting: 2 tbsp cream cheese

1 tbsp butter, 1/4 cup icing sugar, 1-2 tsp cream
For the Chocolate Hazelnut Rolls:
1/4

cup

Nutella

70g

1/4

cup

hazelnuts + 1 tbsp sugar
Instructions
Brush a 9×9-inch pan with butter.

Mix butter, sugar, cinnamon, and salt in a bowl.

Follow your preferred croissant dough recipe. When rolling it out, aim for a 9×16-inch sheet (0.4-0.5mm thick).

Mark 9 strips on the sheet, each 1.8×9 inches.

Divide the sheet into two halves, one with 4 strips and the other with 5.

On the 4-strip sheet, spread Nutella, then cut into 4 strips. Roll each strip and place on the pan.

On the 5-strip sheet, spread the cinnamon sugar mix, cut into strips, roll them up, and place on the pan.

Brush rolls with egg wash and let them proof at room temperature (75F) for 2 hours until puffy and jiggly. Preheat the oven to 350F in the last 15 minutes.

Give another coating of egg wash and bake for about 20-25 minutes until the rolls have a rich golden color.

Chop hazelnuts into crumbs, mix with sugar, and bake for 5-8 minutes until fragrant.

Whisk the cream cheese frosting ingredients (ensure cream cheese and butter are at room temp) and place into a piping bag.

Place the rolls on a serving plate. Sprinkle hazelnut crumbs on the Nutella rolls and pipe thin lines of cream cheese frosting on the cinnamon rolls.

Serve and enjoy! These are best eaten within a day. Keep at room temperature in an airtight container and toast/bake for a few minutes to freshen before eating.